Gold futures climb after Fed chief's remarks; coffee might soar on floods
Hedge funds' record net-bearish bets on gold signal how quickly investor appetite for the precious metal could turn.
On Friday, bullion futures climbed the most in five months after US Federal Reserve Chairman Jerome Powell signaled that policymakers are sticking to gradual interest rate increases.
That gave the precious metals market a needed jolt, days after money managers boosted their net-short position on gold to a record for a fifth straight week.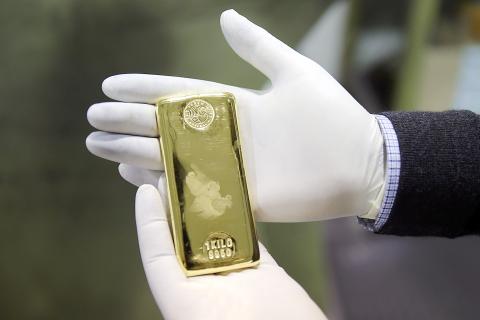 An employee holds a 1kg gold bar at the Perth Mint Refinery, operated by Gold Corp, in Perth, Australia, on Aug. 9.
Photo: Bloomberg
Gold has tumbled about 11 percent from this year's high as the US dollar strengthened and robust US economic growth bolstered the case for the Fed to keep raising borrowing costs.
Even during recent bouts of market turmoil, investors have bypassed bullion in their hunt for havens, choosing instead the greenback, yen or US Treasuries.
That downtrend was interrupted as Powell delivered his dovish speech in Jackson Hole, Wyoming.
"Unfortunately for those shorts today, it wasn't quite the scenario they were hoping for," said Chad Morganlander, a money manager at Stifel Nicolaus & Co, which oversees US$270 billion. "If you continue to see a weakness in the US dollar, those positions will start to unwind."
Wagers on gold's declines outnumbered bets on price gains by 78,579 futures and contracts in the week that ended on Tuesday, according to US Commodity Futures Trading Commission data released on Friday.
That is the fifth straight week that money managers boosted their net-short position on the metal.
Bullion futures for December delivery climbed 2.5 percent this week to US$1,213.30 an ounce on the Comex in New York.
That is the biggest weekly gain for a most-active contract since March 23.
Copper on Friday climbed 1.5 percent to US$2.72 a pound.
COFFEE CROP DAMAGED
Coffee production in India is expected to slump to the lowest in 21 years next season as heavy showers, flooding and landslides damaged trees in the main growing areas in the south of Asia's third-biggest producer.
Output in the year starting on Oct. 1 might be about 25 percent lower than the 316,000 tonnes estimated by the state-run Coffee Board for 2017-2018, said A.L.R.M. Nagappan, chairman of the coffee committee at the United Planters' Association of Southern India.
That would be the lowest since 1997-1998, government data show.
The plunge in output might be positive for global coffee prices, as India exports more than 70 percent of its production.
Arabica prices, which this week dropped to the lowest in 12 years, climbed 0.9 percent on Friday, while the robusta variety increased 0.6 percent.
Arabica prices are still down about 19 percent so far this year, while robusta prices have dropped about 10 percent.
However, for growers in Kerala State, the biggest coffee producer after neighboring Karnataka, the damage is only starting.
"We are in a bad state and we don't know what the future is going to be," Nagappan said on Thursday in a telephone interview.
"Not only the crop, but the plants are also damaged and that will take another three to four years to recoup. Many areas have been affected by landslides," he said.
Comments will be moderated. Keep comments relevant to the article. Remarks containing abusive and obscene language, personal attacks of any kind or promotion will be removed and the user banned. Final decision will be at the discretion of the Taipei Times.