Surge in building permits points to better sentiment
The nation's building permits soared 54 percent in the first six months of the year, while occupancy permits rose to a decade high, as builders and developers turned active and upbeat about prospects, analysts said yesterday.
Building permits, a leading indicator of housing supply, spiked 54 percent in the first half to 58,825 housing units, the highest in four years, as developers and builders emerged from the shadow of property tax hikes, H&B Business Group (住商不動產) researcher Mandy Lang (郎美囡) said.
Occupancy permits, a coincident indicator of housing supply, increased 19.7 percent to a 10-year high of 45,276 units, reaffirming the sentiment pickup, Lang said.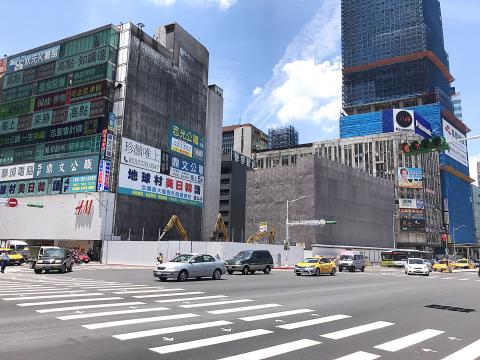 Builders prepare a site for construction in Taipei in an undated photograph.
Photo: Hsu Yi-ping, Taipei Times
Sinyi Realty Inc (信義房屋), the nation's only listed broker, said that a regulatory change this year to exclude rain awnings from floor space prompted builders to apply for permits.
Builders and developers tend to file for building permits prior to rule changes that would allow their projects to qualify for the benefits of old and more flexible regulations, Sinyi research manager Tseng Ching-der (曾進德) said.
However, expectations of market improvement are what really motivated project developers to leave behind the lethargic investment recorded between 2015 and last year, Tseng said.
That explained why developers actively increased land stock in the first six months, pouring NT$328.4 billion (US$10.68 billion) on land purchases, according to Global Asset Management Co (全球資產), an asset management segment of Sinyi Realty.
Some developers opted to accept the rule change and emphasized that they never charge customers for rain awnings, Tseng said.
As for the number of occupancy permits, New Taipei City ranked first with 11,347, an increase of 26.7 percent from the same period last year, H&B said in a report.
Taichung and Tainan finished a distant second and third, issuing 5,188 and 5,136 occupancy permits respectively, it said.
Taoyuan came next with 5,046 permits.
Kaohsiung saw occupancy permits rise 29.8 percent from a year earlier to 4,698, it said, adding that the number more than doubled in Yilan to 1,142.
The steep hikes in building and occupancy permits could translate into pressure on price if the market fails to digest the supply at a similar pace, H&B head researcher Jessica Hsu (徐佳馨) said.
The trend suggests greater competition on the part of developers and builders in attracting prospective buyers and facilitating deals, Hsu said, adding that the challenge is more evident in areas with heavy supply.
Comments will be moderated. Keep comments relevant to the article. Remarks containing abusive and obscene language, personal attacks of any kind or promotion will be removed and the user banned. Final decision will be at the discretion of the Taipei Times.