iPhones trail rivals in Internet speed
If you paid top dollar for the iPhone X and Apple Inc's other flagship smartphones expecting the fastest mobile Internet speeds around, you will not like these results.
Apple's iPhone 8, iPhone 8 Plus and US$1,000 iPhone X trail the latest smartphones from Samsung Electronics Co and Alphabet Inc's Google in download speeds, according to data from Ookla LLC, a company that provides the most popular online service for measuring the speed of an Internet connection with its Speedtest app and Web site.
Faster Internet data means that users can load Web sites and start watching movies more quickly, make crisper video calls and get higher-quality video.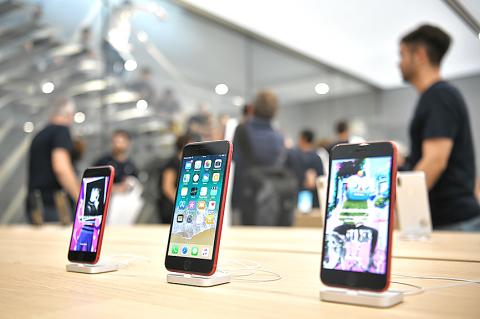 Apple Inc iPhones are displayed at the company's first Italian flagship store in Milan on Thursday.
Photo: AFP
As smartphones start to look more like each other, handset makers are trying to tout under-the-cover hardware features.
Samsung has marketed the issue against Apple with commercials highlighting the faster mobile Internet speeds in its recent TV ad push.
Ookla's data are important because they are created by users — not in a corporate lab — and encompass the range of random real-world conditions that affect performance such as distance from cellular towers and network congestion.
Ookla said it hosts millions of tests a day and has done 20 billion in total.
To be sure, it can be difficult for users to tell the differences between how fast pages load on a smartphone.
However, it is easier to sense the quality of video, how long it takes to pull up a song and how long it takes to send an e-mail.
Web speeds are not the only important device speed metric. Apple's main processors that control the speed of launching apps, swiping through PDFs and loading games are often recognized as some of the fastest in the industry.
"With both LTE-Advanced speeds and Apple's custom-designed A11 Bionic, the smartest and most powerful chip ever in a smartphone, iPhone 8, iPhone 8 Plus and iPhone X provide an incredibly fast wireless experience that can easily handle today's most demanding tasks," an Apple spokeswoman said in a statement. "With up to 27 LTE bands, more than any other smartphone in the world, these iPhones also provide the best worldwide LTE coverage."
The slower load times also have not noticeably hurt the iPhone against its competition. It is one of the best-reviewed smartphones in the world, with the latest models constantly outselling the competition.
Apple last year sold more than 216 million iPhones and could top that this year given strong interest in new larger and lower-cost models planned to be released later this year.
Samsung was the world's biggest smartphone maker last year, shipping more than 317 million units, according to research analyst International Data Corp.
The speed-test data, reviewed by Bloomberg, show that Samsung's Galaxy S9 devices had an average download speed — across carriers in the US — of 38.9 megabits per second (Mbps), based on about 102,000 tests over the past three months.
The larger model, the S9+, delivered speeds of 38.4Mbps, according to a sample size of about 169,000 phone connections.
The iPhone X on average downloaded data at 29.7Mbps, based on about 603,000 tests. The iPhone 8 Plus and iPhone 8 were close behind, with speeds of 29.4Mbps and 28.6Mbps respectively.
Google's Pixel 2 XL delivered a speed of 33.9Mbps and the smaller Pixel 2 showed speeds of 34.4Mbps.
Huawei Technologies Co's (華為) Mate 10 Pro, a device for the US market, recorded the slowest average speeds of 22Mbps, based on a small sample size of 884 smartphones.
Ookla's insight into speed might become more of a factor in purchase decisions next year when the industry plans to start offering fifth generation, or 5G, services, which is to be multiple times faster than what is currently available — if the technology can translate theory into practice.
The speeds of smartphone data downloads are determined by a combination of the modem chips used in the device and the software that tunes the hardware.
Apple uses a mix of modems from Intel Corp and Qualcomm Inc in the newest iPhones.
Qualcomm's latest modems are usually speedier than the ones built by Intel, but Apple uses software to keep the speeds of the Qualcomm chips closer to that of the Intel devices.
Qualcomm, the biggest maker of mobile phone modem chips, put out its own view of the numbers on Monday, saying that Apple devices that do not use its chips are slower than competing devices, and even those that do are slower than other devices with the same connection component.
Apple and Qualcomm are embroiled in a worldwide legal dispute, in which Apple is saying that the chipmaker has unfairly used its position in such chips to force it and other phonemakers to pay technology licensing fees.
Apple has pared back its reliance on Qualcomm and used Intel modems for some of its smartphones.
Comments will be moderated. Keep comments relevant to the article. Remarks containing abusive and obscene language, personal attacks of any kind or promotion will be removed and the user banned. Final decision will be at the discretion of the Taipei Times.