Germany buys 20% stake in 50Hertz, thwarting China
The German government bought a 20 percent stake in the electricity network firm 50Hertz Transmission GmbH, the economy and finance ministries said yesterday, thwarting Chinese investors from buying into the strategic company.
"On national security grounds, the federal government has a major interest in protecting critical energy infrastructure," the ministries said in a joint statement, adding that they have therefore commissioned a public bank to take a stake as a "temporary measure."
According to media reports, China's State Grid Corp (國家電網) has been in talks to purchase a 20 percent stake in the company that had been put up for sale by Australian infrastructure fund IFM.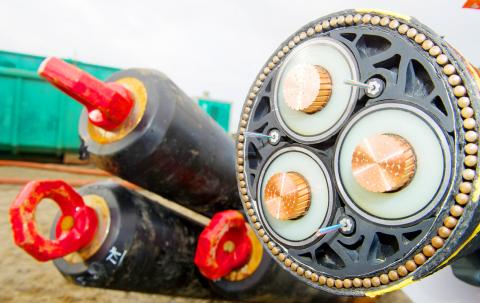 A picture taken on Nov. 17, 2015, in Lubmin, northeastern Germany, shows a cross section of a submarine cable seen at the arrival point of the 50Hertz grid connection project Ostwind 1.
Photo: AFP
The Chinese group had already sought to buy into the company earlier this year.
However, their first attempt was blocked as 50Hertz's majority shareholder — Belgian power transmission system operator Elia Grid International -- then snapped up the stake and expanded its holdings to 80 percent of the company.
Chinese companies have been going on a shopping spree across Europe, snapping up airports, harbors and engineering companies.
Berlin has viewed the purchases of high-tech German firms by Chinese companies skeptically, but current legislation allows it to block an investment from a non-EU country only if the investor wants to take 25 percent or more.
In the case of 50Hertz, the government has therefore had to stump up the cash itself for the stake in order to stop foreign investors.
Comments will be moderated. Keep comments relevant to the article. Remarks containing abusive and obscene language, personal attacks of any kind or promotion will be removed and the user banned. Final decision will be at the discretion of the Taipei Times.