Defensive shares keep FTSE afloat as Europe slides
The UK's top share index on Friday held its ground, slightly outperforming a broadly negative European market, as global trade uncertainty and political troubles closer to home spurred demand for defensive stocks and earnings filtered through.
The blue chip FTSE 100 on Friday shed 5.18 points, or 0.07 percent, to 7,678.79 points. It scored its second week of straight gains, up 0.2 percent from 7,661.87 on July 13.
The FTSE, dominated by companies with large foreign currency earnings, has found support from weakness in the pound, which has been on the back foot this week amid signs of discord in British Prime Minister Theresa May's party over her Brexit strategy.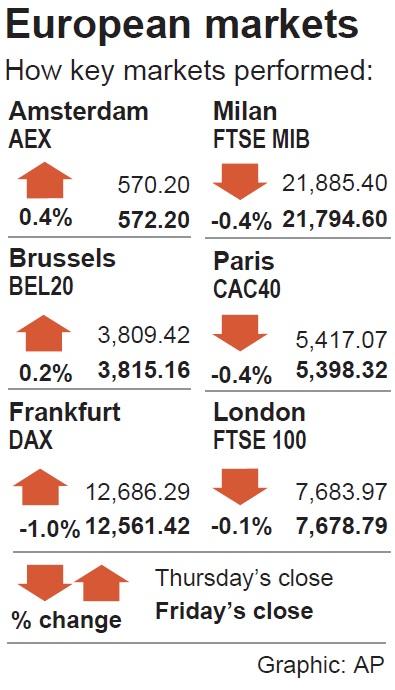 Sterling rebounded on Friday from 10-month lows.
"The FTSE's got the better set of exposures to the current set of conditions," City Index market analyst Ken Odeluga said.
"The FTSE is hugely exposed to a lot of cyclicals and risky factors like commodities ... but again, of course, it does have a huge set of consumer staples and noncyclical businesses, which are the really large ones, and don't forget the [US] dollar exposure as well," Odeluga added.
Tensions over global trade have been a prominent worry in markets over the summer and have kept the FTSE 100 trading in a narrow range since the end of May.
While concerns over tariffs have hit European sectors such as autos, the more defensive makeup of the FTSE has shielded it somewhat.
Consumer staples stocks such as British American Tobacco PLC, Imperial Brands PLC and Unilever PLC were among the biggest gainers, all up between 0.4 percent and 2.5 percent.
"In view of the uncertainty caused by both existing and possible new trade tariffs, we currently prefer a balanced position between defensive and growth stocks," Credit Suisse Wealth Management analysts said in a note. "We therefore favor Swiss, UK and emerging-market equities."
Earnings were also in focus, especially among smaller companies.
Shares in insurer Beazley PLC fell 1.5 percent after the company reported a steep fall in pretax profit as rising US interest rates took their toll on investment returns.
Unilever also benefited from a number of target price upgrades from brokers, including Barclays PLC, Jefferies Group LLC and Joh. Berenberg, Gossler & Co KG, after the consumer giant's earnings topped earnings estimates in the previous session.
"The market appears to have taken relief from the better-than-expected H1 margin outturn, which has added renewed credibility to the savings-driven bottom-line growth story at Unilever," Barclays analysts said in a note.
Elsewhere, European stocks plunged, led by the auto sector, as US President Donald Trump said a new round of tariffs on Chinese goods was "ready to go" and that China and the EU were manipulating their currencies.
The pan-European STOXX 600 on Friday fell 0.56 points, or 0.2 percent, to 385.62, led by cyclical sectors, including auto and mining. That was a 0.2 percent increase from a close of 385.03 on July 13.
Trump said on Twitter that the EU was among those that had been manipulating their currencies, after earlier saying in an interview on CNBC that the US is ready to impose levies on all US$505 billion of Chinese imports into the US.
The president's remarks indicated his willingness to escalate the US' trade war with China, dashing hopes the two sides would arrive at a compromise before more tariffs were imposed.
Meanwhile, German Chancellor Angela Merkel said the EU is ready to retaliate against any US auto tariffs as it prepares to meet with Trump to discuss the possibility of cutting car duties.
The comments came just as global markets were starting to enjoy a reprieve from trade headlines, with attention shifting to the earnings season.
French auto parts maker Faurecia led declines in the auto sector, which has been whipsawed lately by Trump's threats of raising tariffs on European cars.
Peugeot SA fell 3.4 percent, while Volkswagen AG lost 3.7 percent.
"In such a conflict situation, no one can buy auto stocks, or even hold them," Evercore ISI analyst Arndt Ellinghorst said. "If you're an auto exec now, getting customers and orders is the least of your worries. You're only focused on politicians."
Additional reporting by staff writer
Comments will be moderated. Keep comments relevant to the article. Remarks containing abusive and obscene language, personal attacks of any kind or promotion will be removed and the user banned. Final decision will be at the discretion of the Taipei Times.