US monitoring yuan's behavior, Mnuchin says
The US is monitoring the recent weakness in the Chinese yuan and will review whether the currency has been manipulated, US Secretary of the Treasury Steven Mnuchin told Reuters on Friday.
Mnuchin said in an interview in Sao Paulo, Brazil, that the yuan's weakness would be reviewed as part of the US Treasury's semi-annual report on currency manipulation, which is due on Oct. 15 and will be based on activity for the first six months of this year.
Asked whether he was concerned that China may be using its currency as a weapon in an escalating trade fight with the US, Mnuchin said: "I'm not saying whether it's a weapon or not a weapon. There's no question that the weakening of the currency creates an unfair advantage for them."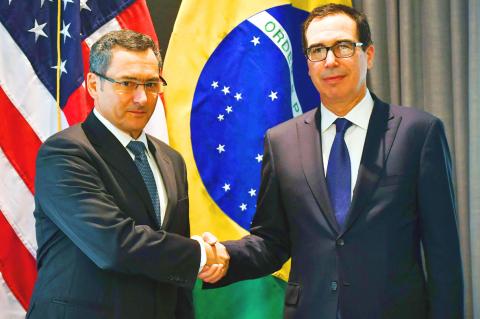 Brazilian Minister of Finance Eduardo Guardia, left, on Friday shakes hands with US Secretary of the Treasury Steven Mnuchin in Sao Paulo, Brazil.
Photo: AFP
"We're going to very carefully review whether they have manipulated the currency," he added.
Mnuchin's comments came just after US President Donald Trump in a tweet on Friday accused China and the EU of manipulating their currencies, adding that that is "taking away our big competitive edge."
Trump also repeated his complaints that the US Federal Reserve's interest rate hikes are causing the US dollar to rise and said he was ready to impose tariffs on all US$500 billion of imported goods from China.
"The US should be allowed to recapture what was lost due to illegal currency manipulation and BAD Trade Deals," Trump wrote on Twitter.
The comments, plus Trump's criticism of Fed interest rate hikes, sent the US dollar tumbling against a basket of currencies.
China's yuan, battered by the trade brawl, has lost 7.5 percent of its value since the end of the first quarter to a year low of 6.767 to the US dollar, marking its biggest 90-day drop since yuan exchange rates were unified in 1994.
The Treasury under Trump has refrained from declaring China a currency manipulator, despite his campaign promise to do so as soon as he took office, partly because the yuan had been rising or stable until earlier this year.
Analysts said that China might be willing to allow further depreciation as the trade war rumbles on.
"The [yuan's] slide against the US dollar will substantially cushion the impact on Chinese exporters from the planned next round of US tariffs," IHS Markit chief Asia economist Rajiv Biswas said.
Additional reporting by AFP
Comments will be moderated. Keep comments relevant to the article. Remarks containing abusive and obscene language, personal attacks of any kind or promotion will be removed and the user banned. Final decision will be at the discretion of the Taipei Times.