MBA grads seek 'sexy' tech jobs and the Valley is hiring
MBA students are attracted to the corporate culture at Silicon Valley companies, and the firms want them for their enthusiasm
Conor Farese, a second-year MBA student in the San Francisco Bay Area, has a simple explanation for why he expects to bypass the finance industry for a career in technology.
"Tech is sexy," Farese, a student at the University of California-Berkeley Haas School of Business, said in an interview. "You know all the companies, you see these apps on your phone. That's a big piece of it."
Luckily for him and many other MBAs, Silicon Valley is hiring.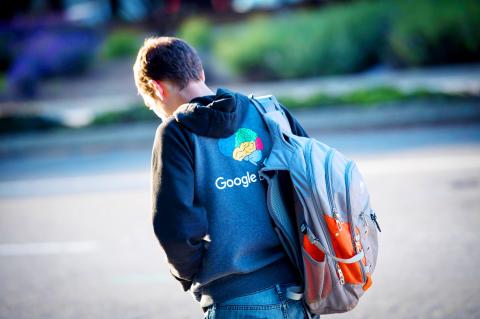 A man wearing a Google Inc sweatshirt walks in front the company's headquarters in Mountain View, California, on April 25.
Photo: Bloomberg
A new study by the Graduate Management Admission Council found that 89 percent of tech companies expect to hire such graduates this year, compared with 76 percent of finance and accounting firms.
Demand is strongest among healthcare, technology and energy companies — followed by financial firms.
"We hire MBA talent because we know that they have a degree of functional excellence and bring a diverse set of experiences and perspectives," Microsoft Corp senior human-resources director Priya Priyadarshini said. "We find MBA students to be data-driven and passionate about technology, and what it can do to better the world."
Of all employers, 81 percent plan to add MBAs this year, up from a 70 percent hire rate last year, the study found.
The biggest increase came from the smallest of firms, as 77 percent of start-ups said they are looking for MBAs, compared with last year's hire rate of 55 percent.
Nearly 200,000 people attain MBAs each year in the US, making it the top graduate degree, according to a higher education report by the US Department of Education this year.
To be sure, the finance industry is still hiring. A spot check on nine large US schools that offer MBA programs showed that about 25 percent of graduates last year went into finance.
"In technology, MBAs can have the best of all worlds, with the flexibility to try roles in different parts of the business, from HR to finance to more technical departments," Priyadarshini said. "The global nature of technology and the ability to solve problems at a global scale can also be a large draw to future talent."
Farese said that financial firms and consultants do not seem to offer the corporate culture he is seeking.
"The tech industry has a ton of really creative, young individuals who think about the world in different ways and those are the type of people I want to be surrounded by every day," he said. "People want to work with other young people. People want to work in places where they can grow — MBAs especially want that."
MBAs flock to tech because it is so embedded in the culture, said Regina Resnick, senior managing director at Columbia Business School's Career Management Center.
"Five years ago we had a sales and trading club, then it became the fintech club," Resnick said. "We see technology at the intersection of all these other industries. It's almost like it would be a little bit hard to separate out that technology from pure tech companies. Technology is impacting opportunities in every field."
The graduate admission council is a non-profit association of graduate business schools.
For the study released last month, it surveyed more than 1,000 employers in 42 countries between February and March.
With assistance from Chloe Whiteaker
Comments will be moderated. Keep comments relevant to the article. Remarks containing abusive and obscene language, personal attacks of any kind or promotion will be removed and the user banned. Final decision will be at the discretion of the Taipei Times.