TSMC revenue declines for third straight month
Taiwan Semiconductor Manufacturing Co (TSMC, 台積電), a chip supplier for Apple Inc's iPhones, yesterday posted a third consecutive monthly decline in revenue to NT$70.44 billion (US$2.32 billion) for last month due to continuing sluggish demand for smartphones.
That brought the chipmaker's revenue for last quarter down 5.97 percent from NT$248.08 billion in the first quarter.
The company in April forecast that revenue would shrink by between 6 and 7 percent quarter-on-quarter in US dollar terms.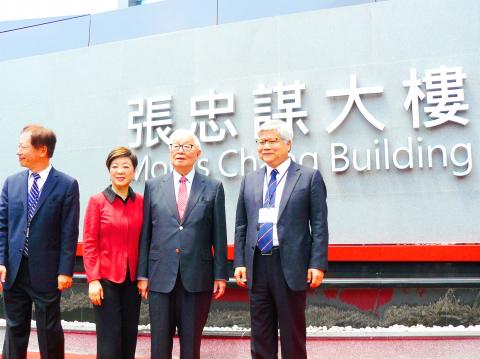 TSMC founder Morris Chang, second right, and his wife, Sophie Chang, second left, pose in front of the company's headquarters, which was renamed the Morris Chang Building, at a dedication ceremony in Hsinchu yesterday.
Photo: CNA
The company's revenue would "be affected by continuing soft demand from the smartphone segment. This decline is expected to be partially mitigated by strengths in [the] high-performing computing [segment]," TSMC chief executive officer C.C. Wei (魏哲家) said.
In the first half of this year, revenue expanded at an annual pace of 7.5 percent to NT$481.36 billion, compared with NT$447.77 billion in the same period last year.
TSMC founder Morris Chang (張忠謀) yesterday told reporters that the company aims to grow revenue to more than NT$1 trillion this year, citing company executives.
That would represent annual growth of 2.3 percent from last year's revenue of NT$977.45 billion.
In April, TSMC trimmed its revenue growth outlook for this year, saying that revenue would grow 10 percent year-on-year in US dollar terms — rather than between 10 and 15 percent it estimated earlier — due to smartphone weakness and uncertainty in cryptocurrency mining demand.
Analysts had expected TSMC's sales growth to pick up momentum this quarter, as the global semiconductor sector usually enters its peak season in the third quarter.
However, global demand for cryptocurrency mining applications remains weak following a plunge in the value of bitcoin, which is expected to compromise TSMC's sales growth this quarter, analysts said.
In addition, trade friction between the US and China is expected to affect shipments of smartphones in the second half, which would be an additional negative factor to TSMC's sales growth, they said.
Chang said he hopes the trade dispute between the world's two biggest economies would be resolved soon and leave global trade unscathed.
TSMC is scheduled to hold an investors' conference on Thursday next week to give a detailed report on its second-quarter results and offer sales guidance for the third quarter.
Separately yesterday, the company held a building dedication ceremony in Hsinchu to rename its headquarters the Morris Chang Building.
Chang last month retired as chairman of TSMC after more than 30 years at the helm.
Comments will be moderated. Keep comments relevant to the article. Remarks containing abusive and obscene language, personal attacks of any kind or promotion will be removed and the user banned. Final decision will be at the discretion of the Taipei Times.