Asian factories slow ahead of US tariffs
AMERICA FIRST? China's PMI slid as export orders fell for a third month; Japan's manufacturing PMI rose, but orders contracted, as the region braces for a trade war
Asian exporters lost momentum last month even before tariffs on US and Chinese goods kick in this week, pressuring regional factory activity in a worrying sign that US President Donald Trump's "America First" protectionist policies could derail global growth.
Shipments from China and Japan, major manufacturing hubs, contracted last month, while businesses across Asia also took on higher input costs as the price of oil and other commodities rose, according to monthly manufacturing surveys.
Stocks eased and oil prices fell as data across Asia showed world trade might have peaked, suggesting the strain on regional economies is likely to intensify as the effects of the heated Sino-US trade war ripple through global supply chains.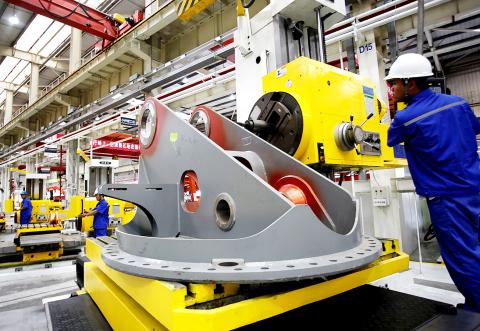 An employee works at a pumper truck production line at a factory in Zhangjiakou in China's Hebei Province on Sunday.
Photo: AFP
"We expect the net contribution of trade to growth to become negative in the second half of the year, if it hasn't already for some countries," ANZ Asia economist Eugenia Victorino said.
However, with the US Federal Reserve increasingly hawkish on rates, hardly any Asian central bank has any room to support consumption as they need to keep their own rates relatively high to prevent destabilizing capital outflows.
Apart from China potentially cutting reserve requirements further this year, no other central bank is seen easing monetary policy, and the countries running current account deficits might have to hike rates further.
China's Caixin/Markit Manufacturing Purchasing Managers' Index (PMI) declined to 51 last month from May's 51.1, with a subindex showing new export orders contracting for the third straight month and the most in two years.
An official PMI survey on Saturday also fueled concerns about the strength of the world's second-
largest economy, where recent data, including credit growth, investment and retail sales, have disappointed.
The economy is feeling the pinch of an internal crackdown on debt and risky financing, as well as external pressure from Trump's "America First" policy.
This has caused anxiety in financial markets, leading to the worst performance on record for the yuan and the deepest monthly fall in Chinese stocks since January 2016.
"The latest PMI readings suggest that the economy lost some momentum last month. With credit growth still cooling and US tariffs imminent, we expect further weakness ahead," Capital Economics senior China economist Julian Evans-Pritchard said.
Other Asian economies have also had a bad month. The Indian rupee hit a record low against the US dollar and the Indonesian rupiah and the Philippine peso have both hit multiyear lows, despite central banks raising rates.
India has raised rates once and the Philippines twice. Both might hike further as their currencies, stocks and bonds are being punished by investors.
Indonesia's factory activity was the slowest since January, while South Korea's contracted for a fourth straight month.
In Malaysia, the pace of deterioration eased slightly as activity recovered from the uncertainty related to the nation's shock election victory for the opposition.
Taiwan and Vietnam posted stronger results. India's factories were also in good fettle last month, with solid overseas demand.
Japan's manufacturing PMI showed growth, but export orders contracted.
Comments will be moderated. Keep comments relevant to the article. Remarks containing abusive and obscene language, personal attacks of any kind or promotion will be removed and the user banned. Final decision will be at the discretion of the Taipei Times.