US import tariffs could risk jobs: General Motors
General Motors Co (GM) on Friday said that expansive US tariffs on imported vehicles being considered by US President Donald Trump's administration could lead to "a smaller GM" and risks isolating US businesses from the global market.
The Trump administration in May launched an investigation into whether imported vehicles posed a national security threat.
On Friday, Trump said the investigation would be completed in three to four weeks.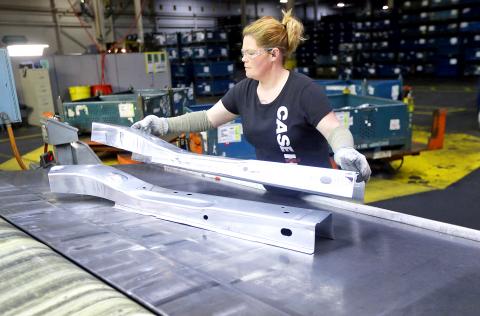 Crystal McIntyre unloads parts from a stamping machine at the General Motors Pontiac Metal Center in Pontiac, Michigan, on April 30.
Photo: AP
Speaking to reporters aboard Air Force One as he traveled from Washington to New Jersey, Trump also said the US has been treated very badly by the WTO, but he is not considering withdrawing from it at this point.
Asked when the probe would be concluded, he said: "Very soon. It'll be done in three, four weeks."
By law, the US Department of Commerce has 270 days to offer recommendations to the US president after a Section 232 probe starts. The president then has 90 days to act upon those recommendations.
Written comments from interested parties in the probe were due on Friday, and the Trump administration has scheduled a public hearing for July 19 and July 20.
The largest US automaker said in comments filed on Friday with the department that overly broad tariffs could "lead to a smaller GM, a reduced presence at home and abroad for this iconic American company, and risk less — not more — US jobs."
The tariffs could hike vehicle prices and reduce sales, GM said.
Even if automakers opted not to pass on higher costs "this could still lead to less investment, fewer jobs and lower wages for our employees. The carry-on effect of less investment and a smaller workforce could delay breakthrough technologies."
Toyota Motor Corp on Friday also filed separate comments opposing the tariffs saying they would "threaten US manufacturing, jobs, exports and economic prosperity."
The company said that Trump has repeatedly praised the automaker for investing in the US, including a new US$1.3 billion joint venture assembly plant in Alabama with Mazda Motor Corp.
"These investments reflect our confidence in the US economy and in the power of the administration's tax cuts," Toyota said in its submission.
Toyota said that international automakers assembling vehicles in the US are based in countries, including Japan, German and South Korea, "that are America's closest allies."
It "is difficult to foresee a situation in which any of them would engage in an armed conflict with the US or cut off supplies of defense materials, and if they did, the United States would have an easy recourse of simply seizing their US plants," it said.
On Thursday, Toyota North America chief Jim Lentz was in Washington holding meetings with lawmakers on trade issues.
On Wednesday, two major auto trade groups said imposing up to 25 percent tariffs on imported vehicles would cost hundreds of thousands of auto jobs, dramatically hike prices on vehicles and threaten industry spending on self-driving cars.
Comments will be moderated. Keep comments relevant to the article. Remarks containing abusive and obscene language, personal attacks of any kind or promotion will be removed and the user banned. Final decision will be at the discretion of the Taipei Times.