Europe markets shrug off opening salvos in trade war
European markets rose on Friday, seemingly unworried by a global trade war that got underway when Brussels slapped retaliatory tariffs on the US.
Oil prices continued to rise after OPEC said its members agreed on an output increase of 1 million barrels per day that Saudi Arabia had put forward at a key meeting in Vienna.
European stocks were all solidly higher as markets sought to claw back some of the week's losses seen on trade war fears.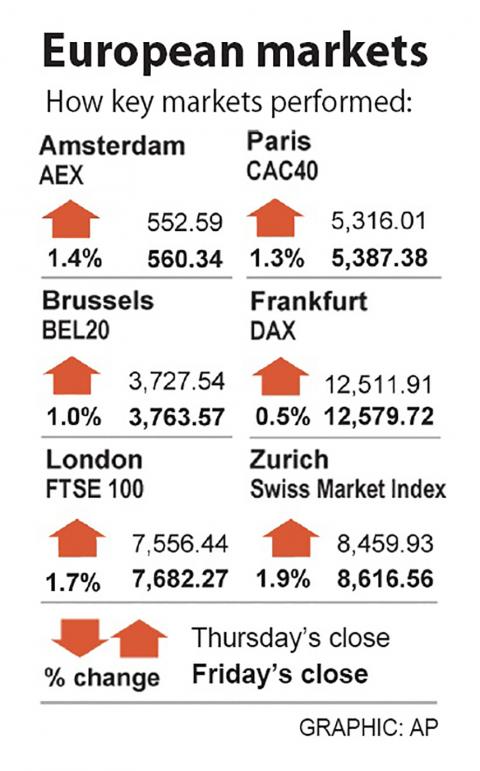 The pan-European STOXX 600 on Friday added 4.16 points, or 1.1 percent, to close at 385.01, but slid 1.1 percent from 389.13 on June 15.
The FTSE 100 on Friday rose 125.83 points, or 1.7 percent, to 7,682.27, gaining 0.6 percent from a close of 7,633.91 a week earlier.
As EU tariffs on key US goods — including jeans, bourbon and motorcycles — went into effect, there were fears China and the US would carry through with their own threats, locking the world's three biggest economies in a potentially destructive face-off.
The EU move was in retaliation to US President Donald Trump's decision to hit steel and aluminum imports from the bloc as part of his "America first" protectionist policy that seeks to close big trade gaps with major world powers.
Meanwhile, Washington and Beijing have traded tit-for-tat threats on hundreds of billions of dollars of goods.
"The underlying tensions between the US and China continue to escalate, and while neither wants a trade war, the US won't accept the 'status quo,' and China won't change its industrial policy," Rabobank Groep NV senior strategist Michael Every said.
"Hence, things are about to get worse, in all probability," he said, warning that markets had not priced in this possibility.
"Western markets are supposed to price for those kind of things, but it seems they are increasingly doing a bad job of doing so — then intermittently remember how to," he added.
Stock markets have endured a roller-coaster ride this week, as investors fretted over the deteriorating situation.
There have been worries a full-blown flare-up could pummel the global economy just as it is getting back on its feet after the financial crisis.
"The US-EU trade dispute, when viewed alongside the US-China trade tensions, means that we are edging closer to a full-blown global trade war," Economist Intelligence Unit head of global forecasting John Ferguson said.
"The concern here is how Mr Trump responds — he may look to enact further tariffs or even subsidize US farmers who are likely to feel the brunt of the tariffs from US trading partners," he said.
"Both of these moves from Mr Trump would likely lead to a further response from the EU, and this is how a trade war breaks out," he added.
Oil, already strong early in the sessions, extended gains after OPEC members agreed on a combined increase in crude oil output of 1 million barrels per day.
"I am pleased that at the end of the day, we reconciled around the 1 million figure that we have been talking about," Saudi Arabian Minister of Energy, Industry and Mineral Resources Khalid al-Falih said.
Additional reporting by staff writer
Comments will be moderated. Keep comments relevant to the article. Remarks containing abusive and obscene language, personal attacks of any kind or promotion will be removed and the user banned. Final decision will be at the discretion of the Taipei Times.