Comcast offers US$65bn to lure Fox from Disney bid
Comcast Corp on Wednesday offered US$65 billion to lure Twenty-First Century Fox Inc away from a merger with Walt Disney Co, saying its all-cash bid was about 19 percent higher and launching the first salvo in what could be a bidding war between two of the largest US media companies.
Comcast chief executive officer Brian Roberts said he is confident regulators would allow a Comcast-Fox deal after AT&T Inc's court victory on Tuesday, which allowed it to buy Time Warner Inc for US$85 billion.
Some analysts see some difficulties for Comcast-Fox, which would add Fox's movie and television studios to Comcast's NBC Universal, but Roberts said in a letter to Fox that he would offer the same conditions as Disney and promised to fight for the deal in court if necessary.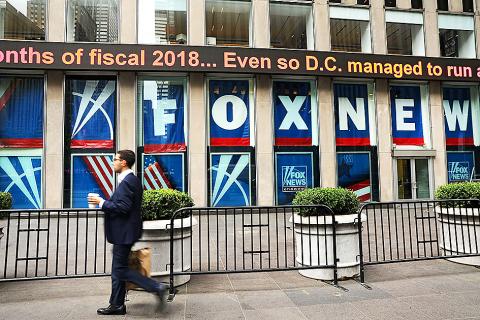 A man walk past the 21st Century Fox headquarters in New York City on Wednesday.
Photo: AFP
Comcast is expected to lead a wave of traditional media companies trying to combine distribution and production to compete with Netflix Inc and Alphabet Inc's Google.
The younger firms produce content, sell it online directly to consumers and often offer lucrative targeted advertising.
Comcast in a statement outlined an offer that was similar to Disney's, including a commitment to the same divestitures. It said that it would agree to litigate any action taken by the US Department of Justice to block the deal.
Comcast offered US$35 per Fox share for the media assets, compared with Disney's stock offer, worth US$29.18 per share at the close of trade on Wednesday.
Comcast offered a US$2.5 billion reverse termination fee if the deal did not go through, the same as Disney. It also offered to pay Fox's US$1.525 billion breakup fee owed to Disney, if Fox went with Comcast.
Comcast said it intends to pursue its US$30 billion acquisition of Sky PLC in parallel with its Fox bid. Comcast bid for Sky in April, after Fox's bid for the remainder of the European pay-TV group it did not already own was delayed by regulators.
Justice Department lawyers who tried to stop AT&T's US$85 billion deal expect consumers will lose out as bigger companies raise prices, and some lawyers see that as a concern in a Comcast-Fox deal, which would put two movie studios and two major television brands under one roof.
"One cannot ignore the fact that there's less independent content to go around," after the AT&T deal, said Henry Su, an antitrust expert with Constantine Cannon LLP.
Comcast might have a tough time winning over Fox's largest shareholder, Rupert Murdoch's family. They own a 17 percent stake and would face a multibillion dollar capital gains tax bill if he accepts an all-cash offer from Comcast, tax experts have said.
Comments will be moderated. Keep comments relevant to the article. Remarks containing abusive and obscene language, personal attacks of any kind or promotion will be removed and the user banned. Final decision will be at the discretion of the Taipei Times.