Trump adviser says trade dispute a risk to US growth
US President Donald Trump's top economics adviser on Sunday acknowledged the trade dispute with US allies could jeopardize the booming US economy, but dismissed criticism of the Trump administration's stance as overblown.
White House economic adviser Larry Kudlow's remarks came after finance ministers from the G7 industrialized countries on Saturday expressed outrage over US-imposed tariffs on steel and aluminum, and called on Washington to reverse course.
Canadaian Prime Minister Justin Trudeau was especially irked by the US invoking national security as justification for tariffs, calling it "frankly insulting and unacceptable."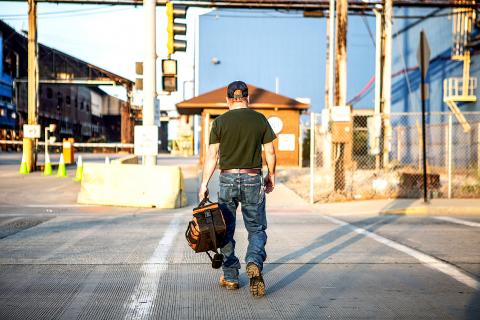 A worker returns to US Steel Granite City Works after a furnace was restarted following a two-year hiatus in Granite City, Illinois, on May 24.
Photo: Reuters
"The idea that our soldiers who have fought and died together in the mountains of Afghanistan and stood shoulder to shoulder, somehow this is insulting to them," he said in an interview with NBC's Meet the Press.
Kudlow played down the concerns in an interview on Fox News on Sunday.
"It think he's overreacting," he said of Trudeau. "As a fine friend and ally of the United States, nobody denies that, but the point is we have to protect ourselves."
Kudlow acknowledged that the dispute over trade could jeopardize a US economy that is now "clicking on all cylinders," with surging growth and low unemployment.
"It might. I don't deny that. You have to keep an eye on it," he added.
However, Kudlow defended Trump's actions as aimed at reforming a global trading system rife with rule-breaking.
"Don't blame Trump. Blame China, blame Europe, blame NAFTA [North American Free Trade Agreement]. Blame those who don't want reciprocal trading, tariff rates and protections. Trump is responding to several decades of trade abuses here," he said.
Canadian Minister of Foreign Affairs Chrystia Freeland said in an interview on CNN that the US tariffs would hurt US companies and consumers first and foremost.
"We know that beggar-thy-neighbor policies don't work. That was the lesson of the 1920s and the 1930s," she said. "And I really hope people will take some time to reflect on the lessons of history, and not go down that path again."
Comments will be moderated. Keep comments relevant to the article. Remarks containing abusive and obscene language, personal attacks of any kind or promotion will be removed and the user banned. Final decision will be at the discretion of the Taipei Times.