Euro falls further on worries over Italy
EUROSKEPTICS: Concern that snap polls might serve as a referendum on Italy's role in the EU sparked a selloff in Italy's bonds and sent the euro to a six-and-a-half-month low
The euro hit a six-an-a-half-month low yesterday, falling for a third day in row as a selloff in Italy's bond markets due to rising political worries drove investors to dump the single currency.
Italian President Sergio Mattarella on Monday set the nation on a path to early elections, appointing former IMF official Carlo Cottarelli as prime minister with the task of planning for snap polls and passing the next budget.
Financial markets are concerned the elections, which could take place as soon as August, might serve as a quasi-referendum on Italy's role in the EU and eurozone, and strengthen the nation's euroskeptic parties even further.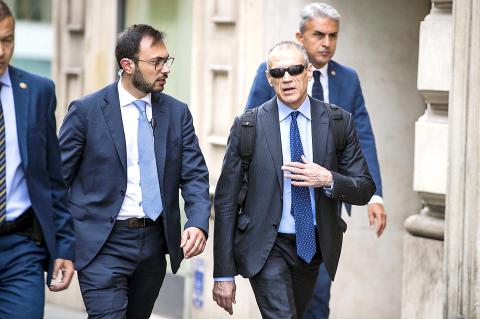 Italian prime minister-designate Carlo Cottarelli, front right, arrives at Montecitorio Palace in Rome yesterday.
Photo: EPA
The euro yesterday dropped below US$1.16 for the first time in six-and-a-half months, down 0.3 percent on the day.
Against the Swiss franc, it fell by a similar margin to 1.1528 francs.
"The spillover effect on the euro from the Italian bond markets is limited for now, but that can change if the selloff forces investors to dump other peripheral debt," said Viraj Patel, a currency strategist at ING in London.
On a monthly basis, the euro has fallen more than 4 percent and is set for its biggest monthly drop in more than three years, according to Thomson Reuters data.
Italy's two-year bond yield was up 54 basis points at 1.42 percent, having earlier touched 1.7 percent — its highest since late 2013.
"There are still a lot of euro long positions that had been built up during the currency's bull phase until May that need to be unwound, and the euro's decline looks set to continue," said Yukio Ishizaki, senior currency strategist at Daiwa Securities in Tokyo.
With a decline in US Treasury yields also weighing, the greenback lost about 0.6 percent to a three-week low of ¥108.730.
The US dollar rose briefly to ¥109.830 on Monday as US-North Korea summit plans appeared back on track, but the relief has been quickly eclipsed by eurozone political concerns.
The US dollar index against a basket of six major currencies was up 0.5 percent on the day at 94.70, hitting a six-and-a-half month high.
The Australian dollar, sensitive to shifts in risk sentiment, was down 0.3 percent at A$0.7525. The New Zealand dollar slipped 0.2 percent to NZ$0.6929.
Comments will be moderated. Keep comments relevant to the article. Remarks containing abusive and obscene language, personal attacks of any kind or promotion will be removed and the user banned. Final decision will be at the discretion of the Taipei Times.