Uber halts Greece services following new regulations
Ride-hailing service Uber Technologies Inc yesterday said it would suspend its licensed service in Greece after the approval of local legislation that imposes stricter regulation on the sector.
Uber, which operates a licensed service in the Greek capital, has faced opposition from local taxi drivers who accuse it of taking their business.
"New local regulations were voted on recently with provisions that impact ride-sharing services," Uber said in a blog post. "We have to assess if and how we can operate within this new framework and so will be suspending uberX in Athens from next Tuesday until we can find an appropriate solution."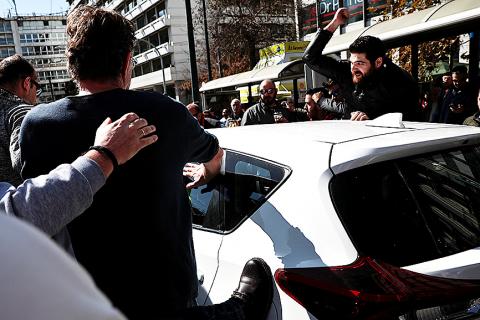 Taxi drivers attack a vehicle they say is being used by an Uber driver during a protest against taxi-hailing apps such as Uber in Athens, Greece, on March 6.
Photo: Reuters
Uber operates two services in Athens: UberX, which uses professional licensed drivers, and UberTAXI, which uses taxi drivers.
The new regulations require each trip to start and end in the fleet partner's designated headquarters or parking area, something Uber does not do.
A digital registry of all ride-sharing platforms and their passengers is also to be created.
The company launched in Europe in 2011, angering some local authorities and taxi drivers who said it did not abide by the same rules on insurance, licensing and safety.
Following widespread protests, court battles and bans, Uber has taken a more emollient stance under its new chief executive Dara Khosrowshahi, suspending operations in various cities in order to comply with local regulations.
UberX launched in Athens in 2015 and more than 450,000 people have used its smartphone app to book a ride.
News of the new regulation last year angered some Athenians and tens of thousands signed a petition launched by Beat — a local ride-sharing service — in favor of ride-hailing services.
UberX drivers have to be employed by fleet partners such as car rental companies or tourist agencies and their cars cannot be more than seven years old.
The data registry and return-to-garage requirement will only apply to ride-hailing services like Uber and Beat, while taxi drivers will be able to use cars that are up to 22 years old.
Comments will be moderated. Keep comments relevant to the article. Remarks containing abusive and obscene language, personal attacks of any kind or promotion will be removed and the user banned. Final decision will be at the discretion of the Taipei Times.