CPC launches mobile payments
State-run oil refiner CPC Corp, Taiwan (CPC, 台灣中油) yesterday began providing digital wallet services by three major international mobile payment systems — Apple Pay, Samsung Pay and Android Pay — at 38 gas stations run directly by the company in Taipei.
Consumers simply need to tap their near-field communication-enabled mobile phones to make payments during the trial period, CPC said.
The company said it would consider expanding the service to more stations and making it available to other mobile payment systems, after building a database of consumer preferences.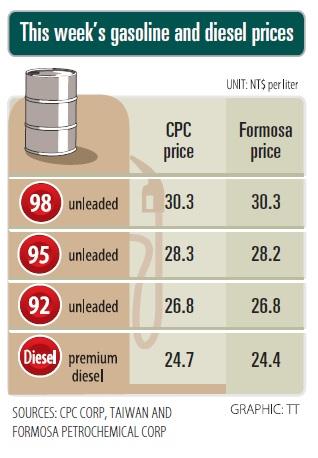 Industry watchers have been upbeat regarding mobile payments in Taiwan because of the nation's high smartphone penetration rate and an improving ecosystem.
However, the penetration rate of mobile payment via the three major foreign systems remains low after Apply Pay started offering payment services to credit card holders in Taiwan on March 29 last year, Financial Supervisory Commission data released on Thursday last week showed.
The commission said the total transactions via Apple Pay, Samsung Pay and Android Pay reached NT$13.8 billion (US$473.9 million) as of Feb. 28, an increase of 35.29 percent from NT$10.2 billion at the end of last year.
Local holders of 3.21 million credit cards had signed up to use the three major mobile payment systems as of Feb. 28, compared with 2.74 million cards at the end of last year, the commission said.
However, overall transactions using the three systems totaled NT$1.25 billion per month last year, accounting for just 0.57 percent of all credit card spending in the year, it added.
In Taiwan, Line Pay leads the mobile payment tools, followed by Apple Pay, with JKo Pay (街口支付) coming in third, a survey released by the Market Intelligence & Consulting Institute (產業情報研究所) last month said.
Separately, CPC yesterday announced in a statement that it would increase fuel prices this week, as crude oil prices advanced last week after Saudi Arabia and other major oil producers continued efforts to curb oil supplies.
Oil prices also increased as Saudi Arabia is planing a stock market flotation of its state-owned Saudi Arabian Oil Co at the end of this year, CPC added.
CPC said that its average crude oil cost rose by US$1.33 per barrel to US$66.35.
That means it would raise gasoline prices by NT$0.2 per liter and diesel prices by NT$0.3 per liter starting today, after factoring in the New Taiwan dollar's appreciation of NT$0.031 against the US dollar, CPC said.
Formosa Petrochemical Corp (台塑石化) on Saturday announced similar hikes, effective today.
Comments will be moderated. Keep comments relevant to the article. Remarks containing abusive and obscene language, personal attacks of any kind or promotion will be removed and the user banned. Final decision will be at the discretion of the Taipei Times.