World's biggest cryptocurrency exchange heads to Malta
Binance (幣安), the world's largest cryptocurrency exchange by traded value, is seeking a fresh start in the Mediterranean.
The company, founded last year in Hong Kong, is planning to open an office in Malta, founder Zhao Changpeng (趙長鵬) said in an interview from Hong Kong.
Binance plans to start a "fiat-to-crypto exchange" on the European island nation, and is close to securing a deal with local banks that can provide access to deposits and withdrawals, he said, without providing a time frame.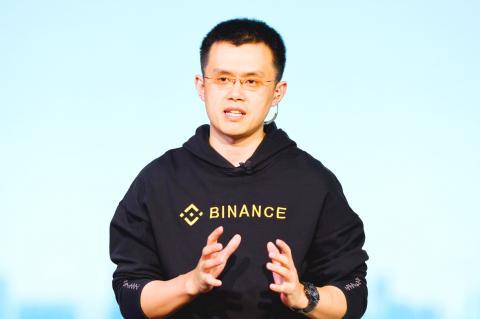 Binance chief executive officer Zhao Changpeng speaks during a Bloomberg Television interview in Tokyo, Japan, on Jan. 11.
Photo: Bloomberg
"We are very confident that we can announce a banking partnership there soon," Zhao said. "Malta is very progressive when it comes to crypto and fintech."
Regulators from China to the US have been cracking down on cryptocurrency exchanges and businesses since last year, leaving many such as Binance struggling to find a permanent base.
The company had an office in Japan and was trying to get a license to operate, but decided to remove its staff to avoid a clash with local regulators, Zhao said.
The Japanese Financial Services Agency yesterday issued a warning to the venue for operating without approval.
Binance was warned because it had several staff in Japan and had been expanding without official permission, said a person familiar with the Financial Services Agency's plans, who asked not to be named because the information is private.
Zhao said he was continuing discussions with authorities in Hong Kong, but that the outcome of those talks was uncertain.
Binance was among seven cryptoexchanges to receive a warning letter in recent months from the territory's Securities and Futures Commission telling firms not to trade digital assets defined as securities under Hong Kong law, a person familiar with the letter said.
The pivot to Malta comes as policymakers look for ways to promote the nation as a leader in the digital assets field. The government has held several public consultations on regulating virtual currencies, token sales and cryptoexchanges.
Plans for a Malta Digital Innovation Authority that would certify and regulate blockchain-based businesses and their operations were unveiled last month, the Malta Independent reported, adding that the organization would also create a framework to oversee initial coin offerings.
Zhao had recently been invited by the Maltese government to review an upcoming bill that was favorable to cryptobusinesses, he said.
His venue was the world's top-ranked exchange by volume over the past 24 hours, trading about US$1.7 billion, according to Coinmarketcap.com.
Binance also plans to launch a decentralized exchange in the coming months, Zhao said, adding that about 10 teams are working on its development, but that the technology is currently too slow to replace the company's existing centralized exchange.
Comments will be moderated. Keep comments relevant to the article. Remarks containing abusive and obscene language, personal attacks of any kind or promotion will be removed and the user banned. Final decision will be at the discretion of the Taipei Times.