Unilever picks Rotterdam over London as HQ
BREXIT? While Rotterdam will be its sole headquarters, London will house two of the company's three main divisions and its 7,300 staff in the UK will not be affected
Unilever, Britain's third-biggest company, is to scrap its London corporate headquarters and make Rotterdam its sole legal home in a blow to British Prime Minister Theresa May's government ahead of Brexit.
The maker of Dove soap and Ben & Jerry's ice cream last year announced a review of its dual-headed structure after fighting off a US$143 billion takeover offer from Kraft Heinz.
Unilever yesterday said it would divide the business into three divisions, with the Beauty & Personal Care and Home Care units based in London, and the Foods & Refreshment division in Rotterdam.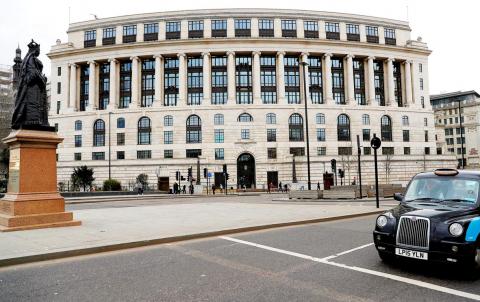 The Unilever building is pictured in London on Tuesday.
Photo: Reuters
Unilever said that its 7,300 staff in the UK would not be affected and that it would continue to be listed in London, Amsterdam and New York.
Unilever last year said that collapsing into a single entity would benefit the company and shareholders, partly by facilitating big-ticket merger-and-acquisition deals.
However, it delayed a decision on location amid heightened political sensitivity caused by Brexit.
Unilever had met with the governments of both countries in the run-up to its decision and the move would be seen as a blow to May's government one year before Britain leaves the EU.
"The board believes the move to three divisions and the simplification of our corporate structure will create a simpler, more agile and more focused company with increased strategic flexibility for value-creating portfolio change," Unilever chairman Marijn Dekkers said.
The British government said Unilever's decision was not linked to Brexit.
"Its decision to transfer a small number of jobs to a corporate HQ in the Netherlands is part of a long-term restructuring of the company and is not connected to the UK's departure from the EU," a spokesman at the British Department for Business, Energy and Industrial Strategy said.
Comments will be moderated. Keep comments relevant to the article. Remarks containing abusive and obscene language, personal attacks of any kind or promotion will be removed and the user banned. Final decision will be at the discretion of the Taipei Times.