Dyson's electric car dreams fueled by growth in Asia
Dyson Ltd, best-known as a manufacturer of vacuum cleaners, hand driers and air filters, posted a surge in revenue, driven by demand from Asia, and revealed a growing shift toward developing autonomous products.
Founder James Dyson said the company — with headquarters in Malmesbury, England — has seen its "center of gravity" tilt toward Asia, which last year generated almost three-quarters of revenue growth.
Revenue increased 40 percent to £3.5 billion (US$4.8 billion) last year, while earnings before interest, tax, depreciation and amortization increased 27 percent to £801 million from a year earlier, the company said yesterday in a statement.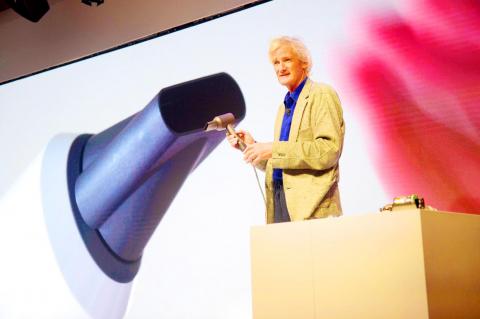 Dyson Ltd founder James Dyson speaks at the Dyson Supersonic Hair Dryer launch at Center548 in New York City on Sept. 14, 2016.
Photo: AFP
Continued growth should help fund the company's bid to build an electric car by 2020.
Dyson in September last year said it plans to initially invest £1 billion to develop the project.
The company had already pledged to spend the same sum on solid-state batteries, with Dyson expecting overall expenditures to increase.
The company declined to comment on any details of the car, but hinted it would involve a range of autonomous technology, such as the company's 360-degree camera currently used in its robotic vacuum.
"We're trying to build products that do what they do automatically," James Dyson said, adding that he wanted to speed up the rate at which Dyson's products are autonomous, such as eliminating the need to manually switch them on or off.
The company has yet to decide where to manufacture the vehicle, with locations in the UK and Asia being considered.
Over the past year, the number of Dyson staff working on solid-state battery technology has doubled, and the company is looking to fill more than 300 vacancies to work on the new vehicle.
The company has also shifted its expertise, now hiring more employees with software skills compared with its traditional focus on hardware, Dyson said.
A particular area of emphasis is those with a background in artificial intelligence, but finding people with enough skills in the field "is a big problem," he said.
While much of the attention on Dyson last year focused on the car, the company rolled out new versions of its cordless vacuum and is planning to announce a new product next week.
Much of Dyson's success in Asia has come from its range of air purifiers. In January, it announced a partnership with a Chinese standards group, adding that Shanghai was the top-selling city for its purifiers last year.
Jim Rowan, who took over as chief executive officer in October last year after the departure of former head Max Conze, is now permanently based in Singapore, the company said in the statement.
Comments will be moderated. Keep comments relevant to the article. Remarks containing abusive and obscene language, personal attacks of any kind or promotion will be removed and the user banned. Final decision will be at the discretion of the Taipei Times.