US may announce hefty steel, aluminum tariffs
METALS IMPORTS: The US president wants tariffs of 25 percent on steel and 10 percent on aluminum, sources said, but some countries might be granted exemptions
Several top US steel and aluminum executives were yesterday invited to the White House for what could be a major trade announcement, two people familiar with the meeting said.
US President Donald Trump has vowed to take steps to crack down on imports of steel and aluminum and has been considering imposing hefty tariffs on imports of the metals from China and other countries.
The White House declined to comment.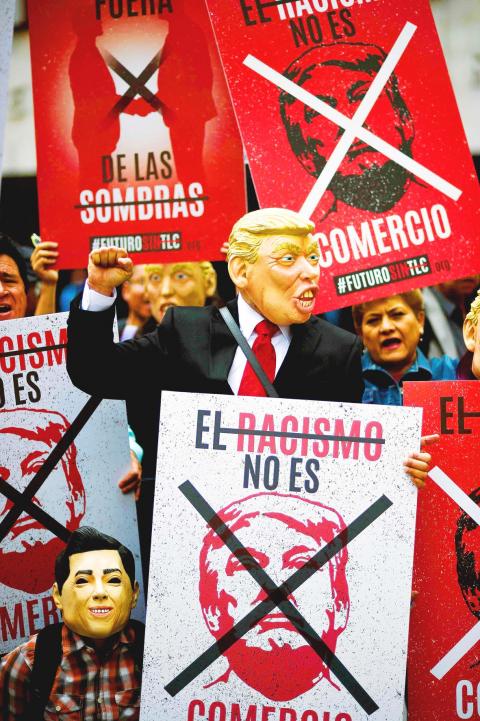 Members of the National Autonomous University of Mexico union protest against US President Donald Trump's economic policies and the North American Free Trade Agreement outside the Secretariat of Foreign Affairs in Mexico City on Tuesday.
Photo: AFP
The possible announcement comes as top aides to Trump were due to meet yesterday with a senior envoy of Chinese President Xi Jinping (習近平) at the White House.
Chinese economic adviser Liu He (劉鶴) and his delegation were to meet with US Secretary of the Treasury Steven Mnuchin, US Trade Representative Robert Lighthizer and White House economic adviser Gary Cohn.
The US Department of Commerce on Feb. 16 recommended that Trump impose stiff curbs on steel imports from China and other countries, and offered the president several options ranging from global and country-specific tariffs to broad import quotas.
A blanket tariff on steel would cover every steel and aluminum product entering the US market from China.
Trump told aides he wanted to announce tariffs of 25 percent on steel and 10 percent on aluminum from all countries, said two people who asked not to be identified because the deliberations were not public.
One person said the details of the decision might still change, and it was possible some countries might be granted exemptions.
Trump has until April 11 to announce his decision on steel import curbs and until April 20 to decide on aluminum restrictions.
Mexican Secretary of Economy Ildefonso Guajardo on Wednesday met his US counterpart, Wilbur Ross, and Lighthizer at a hastily arranged visit to Washington over concerns about possible US tariffs on steel and aluminum imports.
Guajardo and Ross also began a conversation about so-called "suspension agreements" for tomatoes and sugar, the Mexican Secretariat of Economy said in a statement.
The meeting came as US, Mexican and Canadian officials meet in Mexico City for a seventh round of negotiations to rework the North American Free Trade Agreement.
Additional reporting by Bloomberg
Comments will be moderated. Keep comments relevant to the article. Remarks containing abusive and obscene language, personal attacks of any kind or promotion will be removed and the user banned. Final decision will be at the discretion of the Taipei Times.