Facebook shares swing as time spent by users decline
Facebook Inc on Wednesday reported earnings that beat expectations, but shares swung as it stressed the goal of prioritizing personal interactions among users over the time they spend on the world's biggest social network.
Facebook cofounder Mark Zuckerberg said that changes cut time spent on the site by about 50 million hours per day, but chief operating officer Sheryl Sandberg said that having users engage more with friends' posts could lead to further financial opportunities for the company.
"Helping people connect is more important than maximizing the time they spend on Facebook," Zuckerberg said during an earnings call. "We can make sure the service is good for people's well-being and for society overall."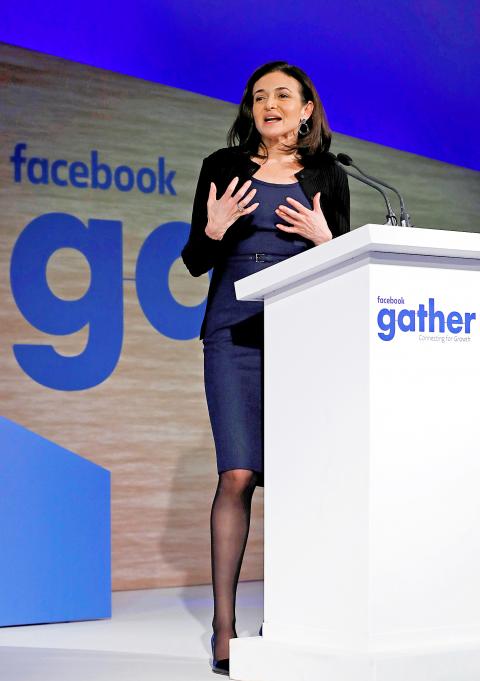 Facebook Inc chief operating officer Sheryl Sandberg addresses the Facebook Gather conference in Brussels, Belgium, on Jan. 23.
Photo: Reuters
He said that in the past couple of years, content from viral videos or posts by businesses have grown to a point where it is "crowding out the connections people value most."
Facebook is giving posts from friends and family priority over content that is not as likely to engender genuine personal interactions, he said.
"We made changes to show fewer viral videos to make sure people's time is well spent," Zuckerberg said. "In total, we made changes that reduced time spent on Facebook by roughly 50 million hours every day."
Sandberg contended that getting people to engage with more posts by friends actually ramped up opportunities for the social network to make money.
Facebook shares dove more than 4 percent after the figures were released, but regained the lost ground and even rose a bit to US$189.30 in after-market trades that followed an earnings call with executives.
The company said that profit in the final three months of last year climbed 20 percent to US$4.26 billion as ad revenue and ranks of members grew.
Revenue in the quarter leapt 47 percent to nearly US$13 billion, but expenses also rose as its ranks of employees grew to finish the year at 25,105 workers.
Facebook said the number of monthly active users hit 2.13 billion in the past quarter, up 14 percent from a year ago.
The company said it set aside an additional US$2.27 billion for taxes on profits to be repatriated from overseas, taking advantage of a lower rate in a recently approved US fiscal overhaul.
"2017 was a strong year for Facebook, but it was also a hard one," Zuckerberg said.
"In 2018, we're focused on making sure Facebook isn't just fun to use, but also good for people's well-being and for society," he added.
Zuckerberg cited research indicating that interacting meaningfully with friends or family improves happiness and health, which is not the case with passively viewing videos or news stories.
Recent changes at Facebook include a new "trusted sources" ranking intended to "make sure the news you see is high quality" and to foster "a sense of common ground" rather than sow division, Zuckerberg previously said.
Facebook has also been moving to expand from its core social network to grow the image-sharing service Instagram, while ramping up the capabilities of its Messenger and WhatsApp services.
It is also stepping up its efforts in virtual reality with its Oculus hardware unit.
Comments will be moderated. Keep comments relevant to the article. Remarks containing abusive and obscene language, personal attacks of any kind or promotion will be removed and the user banned. Final decision will be at the discretion of the Taipei Times.