Ruten.com's plan to list abroad still on: general manager
Ruten.com (露天拍賣), PChome Online Inc's (網路家庭) consumer-to-consumer (C2C) online auction operator, has not given up its plan for an overseas listing, a company executive said yesterday, adding that the company would adopt artificial intelligence (AI) solutions to boost its competitiveness.
"We are going to present a more sophisticated IPO [initial public offering] proposal compared with the previous one in 2016... PChome chairman Jan [Hung-tze, 詹宏志] will make the announcement when the timing is right," Ruten.com general manager Vicky Tseng (曾薰儀) told a news conference in Taipei.
The company at the beginning of 2016 disclosed a plan to list on the Hong Kong stock market to expand its presence in Asia, after announcing that its gross merchandise volume (GMV) exceeded NT$14 billion (US$479.34 million at the current exchange rate) for the first time in 2015.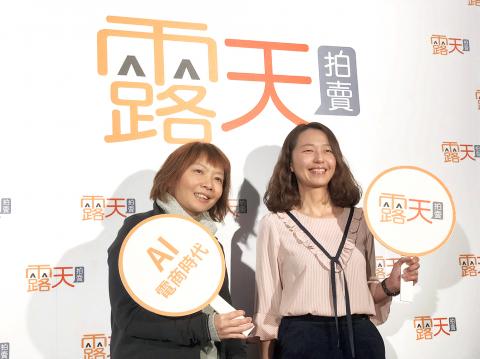 Ruten.com general manager Vicky Tseng, left, attends a news conference in Taipei yesterday.
Photo: CNA
GMV is a gauge indicating the total sales value for merchandise sold through an online marketplace over a certain period.
However, less than a year after its announcement, PChome said it was withdrawing Ruten.com's IPO application from the Hong Kong Exchanges and Clearing in view of fast-changing industry dynamics.
PChome did not give further details on the withdrawal, but it is widely believed that it was prompted by rival Shopee Taiwan Co Ltd's (樂購蝦皮) aggressive approach to gain local market share, forcing PChome to change its operating strategy.
While last year was a relatively "quiet" year for Ruten.com, as its GMV grew slower-than-normal at 15 percent to NT$27.52 billion, the company spent resources to collect trading data and develop AI solutions, Tseng said.
Starting this year, Ruten.com will provide its big data analysis and AI forecast solutions to individual merchants to help them carry out precision marketing, Tseng said, adding that the company would introduce AI chatbot to increase customer service efficiency.
The company plans to expand its reach from Taiwan to Southeast and Northeast Asian markets this year by introducing international trade services for clients starting next quarter, she added.
"The scale of Ruten.com's marketplace is considerably a large platform in East Asia... We will make use of it to expand our services in the region," Tseng said.
Comments will be moderated. Keep comments relevant to the article. Remarks containing abusive and obscene language, personal attacks of any kind or promotion will be removed and the user banned. Final decision will be at the discretion of the Taipei Times.