CPC in talks to develop EV batteries
ELECTRIC VEHICLES: The state-run firm is in talks with a local automaker and several foreign firms for the project, which will initially focus on batteries for electric scooters
State-run CPC Corp, Taiwan (CPC, 台灣中油) yesterday said it is in talks with China Motor Corp (中華汽車), which sells Mitsubishi sedans and its own-brand cars in the local market, to develop its own brand of batteries for electric vehicles (EVs).
CPC's distribution channels — the company has more than 2,000 gas stations across the nation — are a distinct advantage and it provides materials used in lithium-ion batteries, CPC chairman Tai Chein (戴謙) told a news conference in Taipei.
CPC is also in talks with several foreign companies — including Japan-based Panasonic Corp and TDK Corp — over the possibility of further cooperation, company offcials said.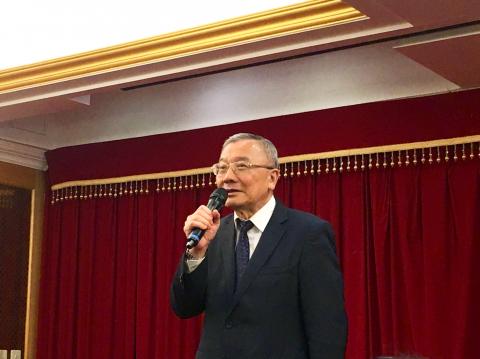 CPC Corp, Taiwan chairman Tai Chein speaks at a news conference in Taipei yesterday.
Photo: Huang Pei-chun, Taipei Times
The company is to hold a forum at the end of next month to find suitable business partners and discuss how to establish an alliance for the battery project, Tai told reporters.
"We are open to any new opportunities," he said, adding that the company does not rule out collaborating with Gogoro Inc (睿能創意), Taiwan's largest electric scooter supplier.
CPC said its battery plan would initially focus on electric scooters.
Asked if the company would develop its own charging system, Tai said CPC would basically follow the government's standard model for electric scooter charging stations, considering a broader customer base.
The Industrial Development Bureau initially intended to use Gogoro's system as the standard for the 3,310 charging stations that the government plans to build nationwide in the near term, Chinese-language media reported last month.
However, the bureau last month decided to postpone its decision on what standard is to be adopted for the charging stations after Kaohsiung-based Kwang Yang Motor Co (光陽工業) proposed a competing system.
The state-owned refiner's effort to develop EV batteries is in line with the Executive Yuan's latest policy to promote the use of electric scooters and ban the sale of fossil fuel-powered motorcycles by 2035, CPC said.
CPC yesterday provided a detailed timetable for the construction of a new plant in Kaohsiung, aiming to boost its capacity for producing high-performance plasticizers.
It said that Taiwan-Japan Oxo Chemical Industries Inc (曄揚), CPC's joint venture with Japanese petrochemical maker KH Neochem Co, plans to start construction on a petrochemical plant next year.
Construction is expected to be completed by the end of 2020 at the earliest, CPC said, adding that the new facility would eventually be capable of manufacturing 180,000 tonnes of isononyl alcohol and 144,000 tonnes of methyl tert-butyl ether a year.
CPC has a 47 percent stake in the NT$13.7 billion (US$469 million) joint venture, which is expected to bring revenue of NT$16.2 billion per year, said Robert Chen (陳玉山), director of CPC's joint-venture business division.
Comments will be moderated. Keep comments relevant to the article. Remarks containing abusive and obscene language, personal attacks of any kind or promotion will be removed and the user banned. Final decision will be at the discretion of the Taipei Times.