Squeezed by sanctions, N Korean state firm hawks cancer 'cures'
While the US pushes for new sanctions on North Korea, one trading company from the country has creatively reinvented itself to survive. Its latest offer: a US$50 root to "cure" cancer.
The Shinhung Trading Co has exported seafood, sold millions of US dollars of iron ore to China's national railway and bypassed sanctions to import luxury goods from Japan.
However, as a series of UN sanctions have taken those big-ticket items off the plate, the firm has resorted to selling "North Korean specialties."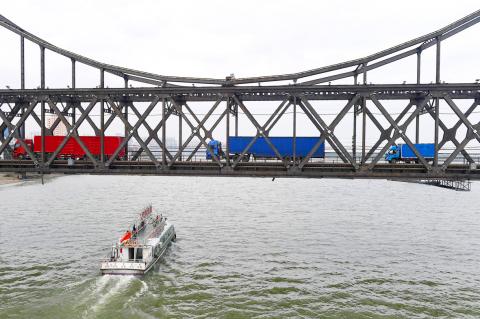 Trucks cross the Friendship Bridge from the North Korean town of Sinuiju to the Chinese border city of Dandong in China's Liaoning Province on Sept. 5.
Photo: AFP
At an alcohol and sweets expo held last month in Jinan, China, two North Korean women in purple gowns, with images of the North's departed dear leaders pinned to their lapels, staffed Shinhung's booth.
They sold North Korean herbal remedies, cigarettes and a special type of ginseng "efficacious for prevention and curing all sorts of cancers," its label said.
"We also sell tiger bone liquor," one of Shinhung's representatives said, declining to give her name. "It is made from tiger bone, one of our most important animal products."
How long they had been selling such products was "our company's little secret," she said.
Shinhung is one of Pyongyang's numerous state-owned trading companies, which experts say bring in money for ministries, pay loyalty fees to the Kim family and fund the country's rogue weapons program.
It is overseen by the North Korean Ministry of State Security, according to an academic paper published by the South Korean Ministry of Unification.
The Chinese market and Chinese intermediaries remain crucial to its aims, though sanctions appear to be hammering its ability to earn in the country, which accounts for 90 percent of North Korea's total trade.
As US President Donald Trump seeks new sanctions after Pyongyang tested another intercontinental ballistic missile this week, Shinhung's latest venture highlights ways used by North Korea to adapt and dodge UN measures targeting its most vital industries.
"Shinhung in early 2000s was doing computers, they've been all across the board, they've done fish, they've done produce," said Korea expert Ken Gause of CNA research in Virginia. "They've reinvented themselves many times as most of these trading companies have."
A decade ago, Shinhung mainly sold "shellfish, crabs, fish" abroad, according to an official North Korean trade Web site.
As the North's dependence on China grew, it set up offices in the Chinese border city of Dandong and the northeastern port city of Dalian.
With China's booming economy devouring resources, Shinhung ventured into mining, sending 210,000 tonnes of iron ore through the remote Nanping border crossing to a subsidiary of China Railway Corp (中國鐵路) in 2014.
The subsidiary — Tumen Xinhuan Goods Trading Co (圖們鑫環物資貿易) — brought in 165 million yuan (US$25 million) that year by trading in the North's iron ore, the Shenyang Railway Bureau says on its Web site.
To haul the loads from North Korea, truckers "rose at dawn and returned at dusk, working more than 10 hours each day," the bureau said.
Tumen requested bids to bring 150,000 tonnes across the Nanping border this year, but its manager Jia Juncai (賈俊才) said they halted trade after new UN sanctions passed in August.
"Our whole company is basically not operating at the moment," Jia said.
In 2008 and 2009, Shinhung used a shipping agency in China to purchase US$100,000 of high-end cosmetics from Japan and ship them to North Korea via Dalian, UN investigators said.
Dalian is also a frequent port of call for the Hae Bang San, an aging 73m cargo ship linked to Shinhung, that has changed its name and flag at least a half-dozen times over the past decade, according to a database on the NK News Web site.
Back when the ship was called the Moon Lake, a Dalian company tied to China's state-owned investment giant State Development and Investment Corp booked cargo for the vessel until 2013.
The North Koreans took the opportunity to register the ship under the name of the group's Hong Kong-based company, HongKong Complant International Transportation Ltd (香港中成國際運輸), its chairman Wang Junliang (王君良) said, adding that he did not know anything about the ruse.
"They've been illegally using our name," Wang told reporters. "We've been trying to get in contact with the North Koreans to discuss this for months, but it's not that easy to find them, or easy to pressure them."
Experts say the ship's Hong Kong ownership might have allowed the North Koreans to procure sanctioned items.
"If you're sending cargo on it, you're dealing with the third party and not directly dealing with the North Korean state," said professor Robert Huish at Dalhousie University. "That would make it more difficult to track and identify it as a violation of sanctions."
Wang said he had explained the situation to Hong Kong authorities, who were investigating on behalf of the UN.
In August, he received documents from the North Koreans showing the ship had changed its registration.
The new owner is listed as "Shinhung Trading Co 3."
The ship sailed from China for North Korea at the end of August and has not updated its position since.
Comments will be moderated. Keep comments relevant to the article. Remarks containing abusive and obscene language, personal attacks of any kind or promotion will be removed and the user banned. Final decision will be at the discretion of the Taipei Times.