Bitcoin is hot – until you actually try to spend some
The number of businesses that accepts the digital currency has been decreasing, but that is beside the point for investors, as bitcoin's rise has become the only factor that justifies its ascent, suggesting a bubble
Bitcoin seems to be everywhere these days. Finding a place to spend it is another matter entirely.
That flies in the face of popular perception that businesses are trumpeting the acceptance of the digital currency as a form of payment.
Looking for a mate? OkCupid stopped accepting cryptopayments a year ago. Booking a flight? Expedia Inc and Virgin Atlantic Airways both dabbled in bitcoin, but now do not accept it for airfare. A Holiday Inn in Brooklyn, New York City, no longer books beds for bitcoins.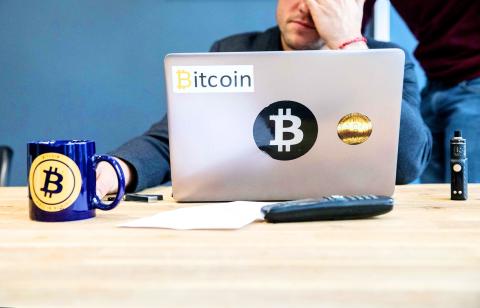 An employee uses a laptop computer branded with bitcoin logos inside the offices of La Maison du Bitcoin bank in Paris on Nov. 23.
Photo: Bloomberg
Nor can you raise a pint at north London pub Pembury Tavern, which received some press a few years ago for entering the digital currency economy, but has since, like others, quietly exited.
And chowing down with bitcoin is getting complicated.
The Web site airbitz.com lists just three restaurants in Manhattan where diners can pay with bitcoin. Two have closed. A third, Melt Bakery, which sells only ice cream sandwiches, accepts bitcoin, but the last time it did was on July 2.
And while the Web site of Piccola Venezia, an upscale Italian restaurant in Astoria, Queens, says "bitcoin accepted here," I would not make the trek.
The person who answered the telephone there said bitcoins were not welcome.
"It's a big mistake," they said.
None of this is likely to rattle investors who are rushing into bitcoin. Its use as a medium of exchange has become entirely beside the point.
Most of what has been propelling the cryptocurrency's remarkable rise recently has been, like in any bubble, the fact that the price has been climbing rapidly. The rise justifies the rise.
And many bitcoin investors view bitcoin more akin to gold than, say, US dollars or any other traditional currency.
However, at least part of what underpinned bitcoin's more than 900 percent jump this year, at least initially, was the idea that bitcoin's acceptance, and use, was spreading more widely.
A key aspect of bitcoin is that it is a cheap way to complete transactions without the intermediary.
Earlier this year, bitcoin investor and author Chris Burniske gave a presentation about the network value-to-transaction ratio, which compares the value of all bitcoins to transactions being done in the currency. Some have dubbed the ratio "bitcoin's P/E" and used it to argue against a bubble.
The idea, though, that bitcoin is being rapidly adopted, or even just gradually, is a myth.
In 2013, a number of retailers and companies, large and small, started accepting bitcoin. Four years later, shoppers cannot use it at any large physical retailer.
What is more, not only have Wal-mart and The Gap not adopted bitcoin, many of the places that said they would no longer do.
A long list of merchants that take bitcoin has circulated the Internet for the past few years, published most recently on 99bitcoins.com.
However, the list is mostly bogus. Many of the businesses on the list no longer take bitcoin or never did.
There is a bitcoin payment button for online electronics retailer newegg.com, but when I tried to use it for a Nintendo Switch, it did not work.
Even Bloomberg is on the list, but my colleagues in billing said you cannot pay your Bloomberg terminal fee in bitcoin.
On Thursday, former New York City mayor Michael Bloomberg threw some cold water on the idea that bitcoins would be used widely any time soon.
You can, in a roundabout way, use bitcoin to buy groceries at Whole Foods, but only after buying a gift card from eGifter, which is really no different from having to convert bitcoins back into cash before using them.
A number of Web reviews of eGifter suggest the process is not painless or quick.
An eGifter spokersperson said customers can use bitcoin, but the transaction is "slightly more complicated" than using cash.
Even so, a number of sites that track bitcoin, like blockchain.info, show that use is up.
On average, the daily value of bitcoin transactions has risen just more than 400 percent this year compared with the first 11 months of last year, according to blockchain.info.
However, given that the number of places accepting it is falling, that seems hard to believe. The number is supposed to track just the volume of bitcoins used to buy actual goods or services.
Even bitcoin believer Burniske thinks the figure has likely been inflated by all the people who have rushed into bitcoin as an investment.
Worse, the cost to complete those transactions is rising even faster, with fees charged up nearly 2,200 percent this year, although it is still minuscule on an absolute level, a fee of just 0.05 percent of the average transaction this year.
Again, none of this will likely pierce the frenzy around bitcoin. Who in their right mind would spend the stuff now anyway, even if they could?
Stephen Gandel is a Bloomberg Gadfly columnist covering equity markets. He was previously a deputy digital editor for Fortune and an economics blogger at Time. He has also covered finance and the housing market.
This column does not necessarily reflect the opinion of Bloomberg LP and its owners.
Comments will be moderated. Keep comments relevant to the article. Remarks containing abusive and obscene language, personal attacks of any kind or promotion will be removed and the user banned. Final decision will be at the discretion of the Taipei Times.