China Literature shares surge in their HK debut
Shares of Chinese Internet giant Tencent Holdings Ltd's (騰訊) e-book arm, China Literature Ltd (閱文集團), yesterday surged more than 60 percent on their debut on the Hong Kong stock exchange, after raising US$1.1 billion in an initial public offering (IPO).
China Literature, the nation's biggest online publishing business and Tencent's answer to Amazon's Kindle Store, opened at HK$90, 63.6 percent higher than its HK$55 IPO price, and shot up a further 14.3 percent to HK$102.9 in a little more than an hour of trading.
The company calls itself a "pioneer" of China's online literature market, carrying 6.4 million writers and 9.6 million literary works.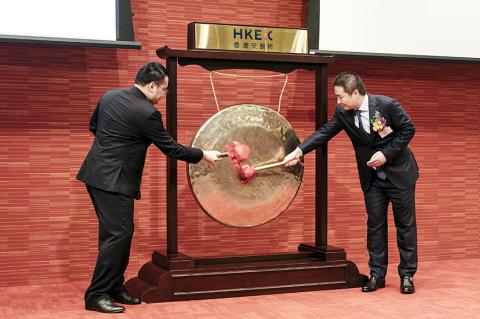 China Literature Ltd cochief executive officers Liang Xiaodong, left, and Wu Wenhui strike a gong during the company's listing ceremony at the Hong Kong Stock Exchange in Hong Kong yesterday.
Photo: Bloomberg
Kingston Securities executive director of researcher Dickie Wong said that investors saw a lot of potential in China Literature and its prospects for growth.
"I do see some of the authors, they can be very famous and some of their stories can become movies or soap operas and online games and cellphone games," Wong said.
Tencent owns 62 percent of the firm, formerly known as China Reading, which was created through a merger between the Internet giant's online literature arm and another Chinese online publisher, Shanda Cloudary (盛大Cloudary).
The demand for Internet firms is very high in the territory, Huarong International Securities (華融國際金融) analyst Jackson Wong (黃志陽) said.
"The concept that this kind of company will be the leader or changing people's lives, I think this is creating a kind of hype," he said, drawing parallels between Tencent's rise and Amazon's success.
The Shanghai-based firm is the fifth-largest IPO in the territory this year, according to Bloomberg News, as the Asian financial hub is increasingly becoming a destination for tech companies.
Popular selfie app developer Meitu Inc (美圖) debuted on the Hong Kong stock exchange in December last year after raising US$629 million in the largest IPO by a tech company in the territory in almost a decade.
Meitu targets teenagers and young adults who use the beautifying app to retouch selfie photos.
"I do think that in the future there would be more and more Internet-related companies listed in Hong Kong because they can see this time, especially with China Literature, they did quite well," Dickie Wong said.
Video game accessories maker Razer is also looking to list in Hong Kong and is expected to raise at least US$400 million.
Comments will be moderated. Keep comments relevant to the article. Remarks containing abusive and obscene language, personal attacks of any kind or promotion will be removed and the user banned. Final decision will be at the discretion of the Taipei Times.