Nissan cuts operating profit forecast
VEHICLE INSPECTION SCANDAL: Costs relating to last month's recall of about 1.2 million cars in Japan are expected to affect Nissan's operating income this fiscal year
Japanese car giant Nissan yesterday downgraded its annual operating profit forecast after a damaging inspection scandal in its domestic market, as its chief executive vowed to regain customers' trust.
Nissan said it now expects to make an operating profit of ¥645 billion (US$5.7 billion) for the year to March, a cut from its previous forecast of ¥685 billion.
The manufacturer left its forecasts for net profit and sales unchanged at ¥535 billion and ¥11.8 trillion respectively.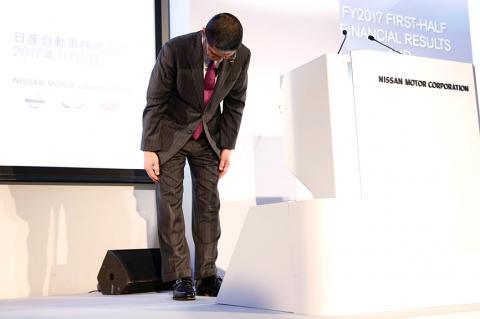 Nissan Motor Co chief executive Hiroto Saikawa bows at the start of a news conference at the company headquarters in Yokohama, Japan, yesterday.
Photo: Reuters
Before presenting the figures to journalists, Nissan chief executive officer Hiroto Saikawa bowed long and deep in apology.
"I would like to express my apologies to customers, partners, dealers and all the people who have been supporting Nissan," Saikawa said.
The scandal has "undermined the trust of all of you," he said, adding: "We would like to do our best to regain the trust of all of you."
Last month, Nissan said it was recalling about 1.2 million cars in Japan that had failed to meet domestic rules on final vehicle inspections.
The company confirmed that tests were performed by staff who were not certified to check the vehicles to Japanese government standards.
The automaker suspended all domestic production for a few weeks before resuming earlier this week, sending its passenger car sales plummeting more than 55 percent in Japan last month.
"Considering the impact from the inspection issue-related costs in Japan and the pace of progress in our cost-cutting efforts, we are revising down our operating profit forecast," the maker of the Altima sedan said in a statement.
Excluding the impact from the inspection scandal in Japan and costs linked to litigation in the US, Nissan said its operating profit was "in line with our initial forecast."
For April-September, Nissan's net profit edged down 2.1 percent year-on-year to ¥276.51 billion while operating profit dropped 17 percent to ¥281.83 billion.
Sales rose 6.2 percent to ¥5.652 trillion as the number of cars sold globally edged up 4.6 percent to 2.73 million vehicles.
In Japan, it sold 283,000 vehicles over the period, up 34.1 percent, it said.
In addition to falls in domestic sales last month, the firm saw hundreds of orders scrapped in Japan due to the suspension of factory operations, a Nissan official in charge of the Japanese market told reporters.
She said the firm would continue to see the impact of the scandal this month, but "we are expecting to recover in December."
Saikawa pledged that the company would announce details of an internal probe into the inspection issue in the coming days.
Satoru Takada, an analyst at TIW, a Tokyo-based research and consulting firm, said the impact of the scandal is now "quite visible."
"It's not only a matter of its brand image. The scandal is now affecting Nissan's real business," he said before the announcement.
The number of cars sold in China rose 6.7 percent and the figure for the European market edged up 3.6 percent, but sales volume in North America slipped 1.3 percent, reflecting slowing demand.
Long-time Nissan boss Carlos Ghosn this year stepped down from the chief executive post at Nissan to focus on overhauling scandal-hit Mitsubishi Motors.
Ghosn took charge at troubled Mitsubishi after Nissan threw it a lifeline last year, buying a one-third stake as it wrestled with a mileage-cheating scandal.
He also heads France's Renault and remains chairman of Nissan.
Following the results, the firm's shares closed up 0.67 percent at ¥1,118.5, outperforming the overall market, which ended down 0.1 percent.
Comments will be moderated. Keep comments relevant to the article. Remarks containing abusive and obscene language, personal attacks of any kind or promotion will be removed and the user banned. Final decision will be at the discretion of the Taipei Times.