Adata more than doubles net profit in third quarter
GROWTH MOMENTUM: The memory module producer expects the industry uptrend to extend into the first half of next year, buoyed by strong demand across the board
Adata Technology Co (威剛科技), the world's second-largest memory module maker, yesterday said that net profit more than doubled to NT$728 million (US$24.12 million) last quarter, benefiting from rising DRAM and NAND memory module prices.
That translated into earnings per share (EPS) of NT$3.45 last quarter, according to a company statement.
Adata made NT$310 million in net profit, or EPS of NT$1.42, in the second quarter, and NT$347 million, or EPS of NT$1.65, in the same period last year.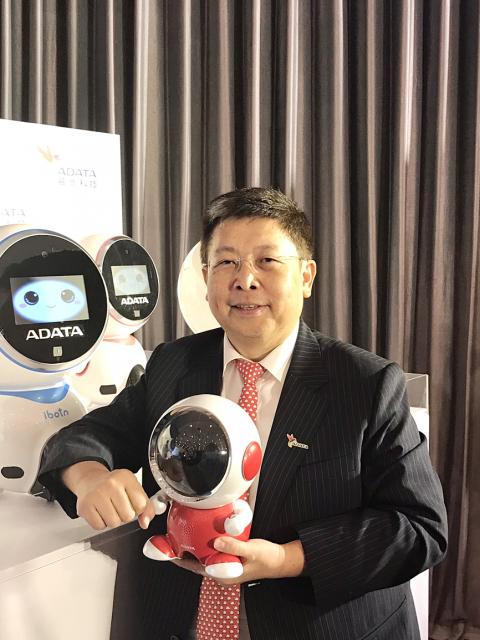 Adata Technology Co chairman Simon Chen holds the company's household robot Arobot on Aug. 9 in Taipei.
Photo: Hung Yu-fang, Taipei Times
"As forecast, the third-quarter results were much better than the second-quarter figures," Adata said in the statement.
The company has said that net profit would bottom out in the second quarter.
The company predicted in August that a short supply of DRAM chips would prompt a new wave of price hikes of more than 10 percent this quarter, as seasonal demand picks up after a short break in the second quarter.
Adata chairman Simon Chen (陳立白) forecast in July that the memory industry's latest upcycle would last 18 months from the time DRAM prices began surging in June last year, which would make it longer than the previous upturn in 2013.
The boom could extend into the first half of next year, on the back of stronger-than-expected demand across the board, including data centers, mobile phones and computers, Chen said.
In the first three quarters of the year, Adata made NT$1.82 billion in net profit, up 2.33 times from NT$541 million in the same period last year, according to the company statement.
Revenue grew about 51 percent year-on-year to NT$23.91 billion in the first three quarters from NT$15.81 billion a year ago.
Comments will be moderated. Keep comments relevant to the article. Remarks containing abusive and obscene language, personal attacks of any kind or promotion will be removed and the user banned. Final decision will be at the discretion of the Taipei Times.