Cuts in Chinese steel output spell fall in ore prices
COUNTER-CYCLICAL: The country is enacting cuts to steel and related industries at the beginning of what is traditionally a high season when iron ore supply rises
Iron ore has slumped back into a bear market after posting the biggest weekly loss in 16 months, amid concern that record demand in China could ease off as mills enact winter output cuts, just as data from the country, which is the the top user, signal that the economy could be cooling.
Losses have probably been driven by "the realization that if, as planned, large amounts of steel capacity are taken offline during the winter months, this will mean lower demand for iron ore," Capital Economics Ltd chief commodities economist Caroline Bain said by e-mail. "August activity and spending data suggested that the Chinese economy is starting to slow."
Spot ore with 62 percent content in Qingdao on Friday sank 3.8 percent to US$63.56 a dry metric tonne, taking the week's retreat to 12 percent, Metal Bulletin Ltd said.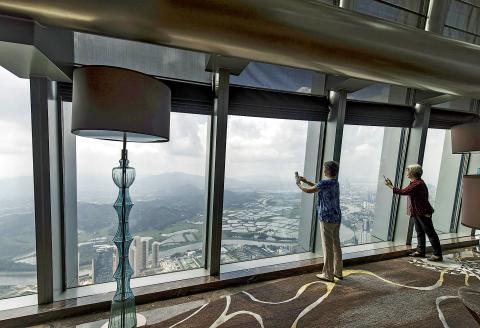 Visitors use their smartphones to take photographs from the observation deck of the KK100 tower in Shenzhen, China, on Wednesday last week. China is on a city-by-city campaign to rein in housing prices and limit the risk of bubbles.
Photo: Bloomberg
Prices have lost more than 20 percent since peaking near US$80 in August, meeting the common definition of a bear market. Lower-grade 58 percent ore, which trades at a discount, has sunk into the US$30s.
Iron ore is in retreat after a tumultuous year that has seen the commodity surge in February, and again between June and last month, only for gains to be rolled back. While Chinese steel output has been running at a record pace, aiding iron ore, policymakers plan to order production cuts over winter to curb pollution.
Last week, Australia's central bank predicted weaker iron prices, flagging risks including rising supplies as well as concern that China may be nearing peak steel.
"We expect the price of iron ore to fall further and to average just US$55 a ton in the fourth quarter," Bain said. "Much will depend on whether the capacity closures take place on the scale that is planned."
Capital Economics placed first in a Bloomberg ranking of iron ore forecasters in the second quarter.
There are signs of cutbacks before winter starts.
The steel-making hub of Tangshan city planned to halve output of pellet and sintering plants — both used to make steel — from yesterday as part of an "emergency measure" to reduce pollution, the environmental bureau said, adding that the duration of the cuts would be notified by the municipal government at a later date.
The planned winter cuts could reduce steel output by up to 30 million tonnes and iron consumption by 50 million tonnes, Shanghai Metals Market's international division head Ian Roper said.
It makes for a "risky picture" for prices, given ore supply is always seasonally stronger in the fourth quarter, he said.
Steel prices in China, which accounts for half of worldwide production, are losing ground after hitting multiyear highs, paring mills' profitability and undercutting iron ore demand. In Shanghai, futures for reinforcement bar fell 6.6 percent last week, while the contract for hot-rolled coil dropped 7.4 percent, the biggest loss since May.
More iron ore supply is on the way: Shipments from the top producers are estimated at 314.9 million tons this quarter, up 5.3 percent on-year, according to Sanford C. Bernstein & Co, citing vessel-tracking data.
Last week, Vale SA said its giant S11D mine is to hit 25 percent of capacity by year-end.
Comments will be moderated. Keep comments relevant to the article. Remarks containing abusive and obscene language, personal attacks of any kind or promotion will be removed and the user banned. Final decision will be at the discretion of the Taipei Times.