Sun, sand, unicorns: Making a case for Florida's tech scene
Flush with venture capital funding from the likes of Alibaba Group Holding Ltd (阿里巴巴) and Alphabet Inc's Google, Magic Leap Inc founder Rony Abovitz is attempting to marry the real world with the imaginary.
Don a pair of his mixed-reality goggles and — according to the hype — fire-breathing dragons might appear in your living room and life-size whales could swim through your school gymnasium.
Yet the company is not based in a West Coast tech hub, but balmy South Florida.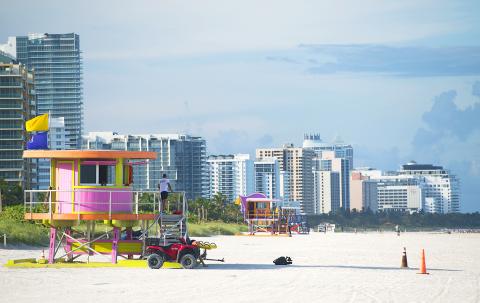 A lifeguard looks at a nearly deserted beach after residents and visitors were evacuated from Miami Beach ahead of Hurricane Irma on Thursday.
Photo: AFP
So is JetSmarter Inc, the chartered aircraft-hailing company backed by rapper Shawn "Jay-Z" Carter and members of the Saudi royal family, and Chewy Inc, the online pet supplies retailer acquired by PetSmart Inc for a reported US$3.35 billion.
Those companies are hardly indicative of a widespread uprooting of San Francisco in favor of Florida, but it is a start.
Venture capital investors more than doubled their allocations in Florida over the past five years to a record US$1.7 billion, the biggest uptick among the top-five markets, according to data from the National Venture Capital Association and Pitchbook.
Those investments might lay the foundation for something bigger, as today's companies spawn teams of experienced engineers with ideas of their own.
"This thing is just going to pick up speed," said Jeff Ransdell, a founding partner of Miami-based Rokk3r Fuel, which invests in local start-ups and is raising a new fund.
Magic Leap Inc, led by University of Miami alumnus Abovitz, is itself a major part of the story. It raised US$793.5 million last year in a financing round that gave it a US$4.5 billion valuation and about 80 percent of its team — or 800 staffers — work from South Florida. Investors included Google and Jack Ma's (馬雲) Alibaba.
Abovitz remembers a time when running a tech start-up from South Florida felt like being "alone in a raft by myself," he told an audience at the eMerge Americas conference in Miami Beach in June.
That has changed and the region might be on the verge of a breakthrough, he said.
For Florida's governments and business chambers, tech and venture capital are among the latest targets in a push to convince entrepreneurs and investors that they can do their jobs from anywhere nowadays — so why not Florida, where the winters are warm and state income tax is nonexistent?
Indeed, there is always the possibility that a hurricane might sweep through, a prospect weighing heavily on the region with Hurricane Irma hitting the peninsula this weekend.
However, storms aside, Florida's boosters can point to relatively inexpensive office space and reasonable cost of living.
Give US$1 million to a Miami start-up and it will last three to four times as long as it would last in Silicon Valley, said Ransdell, a former Merrill Lynch managing director.
The advantages are "unmatched by what you'd be able to get anywhere on the West Coast," said Rodolfo Saccoman, founder of Miami Beach-based AdMobilize, an artificial intelligence company and one of Rokk3r's investments.
However, Silicon Valley's hegemony is hard to break.
Top tech talent gravitates to the biggest markets where one opportunity leads to another. The biggest tech labor pool in Florida — Tampa — this year came in at No. 29 in CBRE's Scoring Tech Talent report for the US and Canada with 45,340 workers, about one-seventh the size of San Francisco's.
Miami and Fort Lauderdale ranked 44th and 46th, respectively, with pools about half the size of Tampa's.
Then there is the funding. Deep-pocketed financiers still have a bias toward investments in their own backyards, where they can visit by car and keep an eye on the entrepreneurs entrusted with their money.
Magic Leap was a special case: Abovitz had a track record to stand on, having sold his previous company, Mako Surgical Corp, to Stryker Corp for US$1.65 billion.
"There's a thing called a plane where you can fly, have a meeting on Sand Hill Road and come back," Abovitz told the crowd in Miami Beach, alluding to the Menlo Park, California, street famous for its venture capital firms.
JetSmarter's founder has access to airplanes, too, but he also found another way around the fundraising dilemma.
The tech-cum-aviation business had a wealthy user base that it tapped for funding, instead of relying on traditional Silicon Valley-based venture capital.
Jay-Z, for instance, got interested from using the service, founder and chief executive officer Sergey Petrossov said.
"It's probably a long ways away from being a Silicon Valley, but I think it's come on the map," he said.
Comments will be moderated. Keep comments relevant to the article. Remarks containing abusive and obscene language, personal attacks of any kind or promotion will be removed and the user banned. Final decision will be at the discretion of the Taipei Times.