US gasoline prices soar on Texas floods
'LEVEES AT RISK': Harvey's economic impact might hit US$160 billion, AccuWeather president Joel Myers said, which would make it the costliest storm in US history
Gasoline prices in the US yesterday hit US$2 per gallon for the first time since 2015 as flooding from Tropical Storm Harvey knocked out almost a quarter of US refineries, while crude prices remained weak as demand dropped following the outages.
Harvey has battered the US Gulf coast since Friday last week, ripping through Texas, Louisiana and the heart of the US petroleum industry.
At least 4.4 million barrels per day of refining capacity was offline, based on company reports and Reuters estimates.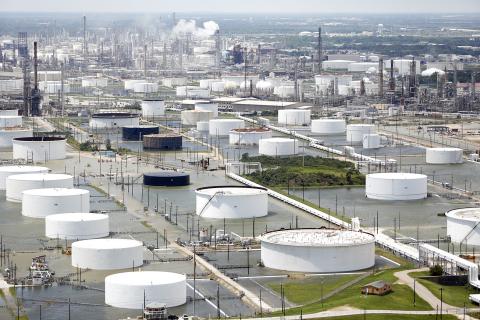 Rainwater from Tropical Storm Harvey surrounds oil refinery storage tanks in Texas City, Texas, on Wednesday.
Photo: Bloomberg
Amid fears of a supply squeeze, US gasoline prices yesterday jumped to US$2 per gallon for the first time since July 2015, and traders from Europe to Asia were scrambling to fix fuel cargoes to the US.
Goldman Sachs Group Inc said it could take several months before all production could be brought back online.
"While no two natural disasters are similar, the precedent of Rita-Katrina would suggests that 10 percent of the ... currently offline capacity could remain unavailable for several months," Goldman said.
While gasoline spiked, crude markets remained weak after already falling sharply the previous day. The closure of so many US refineries has resulted in a slump in demand for the most important feedstock for the petroleum industry.
US West Texas Intermediate (WTI) crude futures were set to close the month down 8 percent, their steepest monthly loss since July last year. They traded at US$46.12 a barrel yesterday, slightly above the previous day.
International Brent crude was at US$50.86 per barrel, unchanged from the previous day, when the contract fell by more than 2 percent.
"The temporary closure of refineries is a major dent to United States' crude demand and is weighing on both Brent and WTI prices," BMI Research said.
Analysts said that the heavy WTI discount with Brent was a result of shut in US crude supplies due to pipeline and refinery closures.
Harvey could be the worst storm in US history in terms of financial cost.
"The economy's impact, by the time its total destruction is completed, will approach US$160 billion," AccuWeather president and chairman Joel Myers said.
Other estimates have put the economic losses from Harvey at under US$100 billion.
Although Harvey keeps getting weaker, meteorologists say more floods are expected.
"The worst flooding from Harvey is yet to come as rivers and bayous continue to rise in Texas with additional levees at risk for breaches and failures," AccuWeather said.
Beyond Harvey, US commercial crude oil stocks last week fell by 5.39 million barrels to 457.77 million barrels, according to data released on Wednesday by the US Energy Information Administration.
That is down 14.5 percent from record levels in March last year.
The big draw in crude came as US gasoline demand hit a record 9.846 million barrels per day last week and as US refinery use rates rose to 96.6 percent, the highest since August 2015.
However, the data was collected before Hurricane Harvey hit the Gulf Coast.
Comments will be moderated. Keep comments relevant to the article. Remarks containing abusive and obscene language, personal attacks of any kind or promotion will be removed and the user banned. Final decision will be at the discretion of the Taipei Times.