Amazon mining move sparks alarm
When most of the world talks about the riches of the Amazon, they mean the unique rainforest and so-called lungs of the planet.
However, Brazilian President Michel Temer has given the nod to a more literal sense of riches — mineral extraction — leaving environmentalists, including Gisele Bundchen, up in arms.
Temer's decision issued on Wednesday scrapped a national reserve in the northern Para and Amapa states that covered a 46,000km2 area since 1984, when Brazil was still run by the military.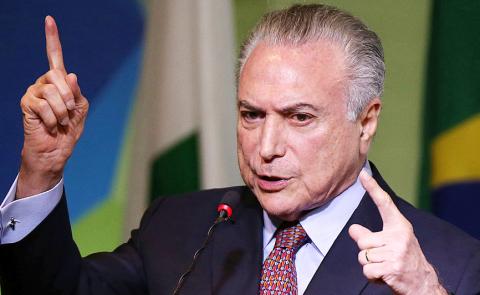 Brazilian President Michel Temer speaks at a steel conference in Brasilia on Tuesday.
Photo: Reuters
The Reserva Nacional del Cobre y Asociados is bigger than Denmark and home to virgin forest, as well as indigenous territories of the Aparai, Wayana and Wajapi people.
It also contains important reserves of gold, manganese, iron and copper and Temer says that cash-strapped Brazil should start digging.
Until now, state-owned companies had rights to use the resources, but rarely did.
Temer's measure opens the door to private businesses.
His aim with the decree is not just to boost the industry, but to bring control over activity that is already being performed by illegal miners who use destructive methods that can poison rivers with mercury.
In addition, Temer said that the mining would not take place in special conservation areas, only outside.
"Our promise is to bring sustainable development in the Amazon, uniting environmental protection with revenue generating for the local population," he said.
However, some analysts were skeptical that much good could come from a president who leans increasingly on the powerful agro-industrial lobby for his political survival amid corruption scandals.
"The measure is meant to bring economic expansion, but it could bring a huge impact. What price will be paid in such a sensitive area as the Amazon?" asked Ely Paiva, an expert at the Getulio Vargas Foundation in Rio de Janeiro.
The WWF says private mining expansion will risk irreversible damage both to the environment and indigenous people.
"It's a tragedy waiting to happen," said Mauricio Voivodic, the WWF's director in Brazil.
"This can cause deforestation, contamination of rivers and ramp up activities like illegal mining. It's about going back to an old vision of the Amazon as a source of natural resources," Voivodic added.
Voivodic pointed to the disaster at the Samarco iron ore mine in the Minas Gerais region in 2015 that killed 19 people and sent huge quantities of toxic mud flooding into a major river system.
"This decree is the biggest attack on the Amazon in the last 50 years. Even the military dictatorship didn't dare," said Brazilian Senator Randolfe Rodrigues, who is planning to challenge the decree in court.
Campaigns on social media are going under hashtags like "SOS Amazonia" and Bundchen has given glamorous weight to the resistance.
"What a disgrace. They're selling off our Amazon!" she tweeted.
Comments will be moderated. Keep comments relevant to the article. Remarks containing abusive and obscene language, personal attacks of any kind or promotion will be removed and the user banned. Final decision will be at the discretion of the Taipei Times.