Brexit may move 100,000 jobs to city of Frankfurt
LONG-TERM EFFECTS: Frankfurt Main Finance's Hubertus Vaeth said the jobs boost would be a win and it was important to face up to the challenge
The expected mass exodus of UK-based bankers because of Brexit could bring up to 100,000 new jobs to Germany's Frankfurt region over the next four years, a study commissioned by the Frankfurt Main Finance lobby group said yesterday.
The study by the WHU-Otto Beisheim School of Management said 10,000 new banking jobs are expected to flood into Frankfurt as a result of Britain's decision to leave the EU, which would have a multiplying effect on other sectors.
"New bank employees will increase demand for housing, infrastructure and transportation, education, healthcare, consumer goods, food, and so on," the researchers said.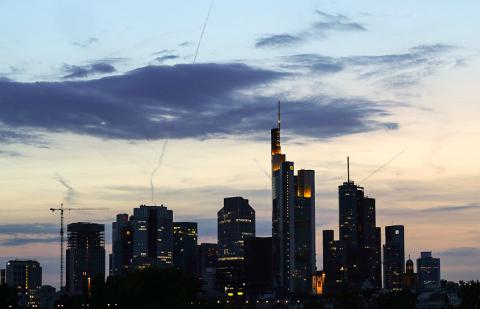 Buildings stand against the evening sky in Frankfurt, Germany, on Thursday.
Photo: EPA
Working from the expectation that the initial "Brexit shock" will bring 10,000 banking jobs and assuming economic growth rates remain stable, the study calculated that at least another 21,300 non-banking jobs would be created in the city of Frankfurt alone.
Under its most "optimistic scenario," Frankfurt and the surrounding Rhein-Main region, which includes towns as far as 80km farther south, could see a boom of nearly 88,000 additional jobs, the study found.
"As the Brexit effect is permanent, the non-financial employment effect will also be long-term," the authors said.
Many UK-based financial firms are looking to move certain operations to eurozone cities as they risk losing their "passporting rights" to do business with clients in the EU once Britain definitively quits the bloc in March 2019.
Frankfurt, already home to the European Central Bank, has emerged as the frontrunner in the race to attract bankers fleeing London.
Major US and Asian banks, including Goldman Sachs Group Inc and Japan's Nomura Holdings Inc, Daiwa Securities Group Inc and Sumitomo Mitsui Financial Group Inc, have already opted for the city on the Main River over rivals like Amsterdam, Dublin and Paris.
Frankfurt is also considered a favorite to host the European Banking Authority, which is to leave its current home in London.
Hubertus Vaeth, director of the Frankfurt Main Finance group promoting the city to foreign banks, said the expected jobs bonanza for Frankfurt and the surrounding area was "a real win for everyone involved."
"What's important now is to understand and shape this growth. This will be a challenge," he said.
Comments will be moderated. Keep comments relevant to the article. Remarks containing abusive and obscene language, personal attacks of any kind or promotion will be removed and the user banned. Final decision will be at the discretion of the Taipei Times.