Uni-President to sell Chinese stake back to Starbucks
Uni-President Enterprises Corp (UPE, 統一企業) and President Chain Store Corp (PCSC, 統一超商) yesterday announced a major shift in their partnership with Starbucks Corp on operating the US brand in Taiwan and China.
UPE and PCSC are to sell their respective 20 percent and 30 percent stakes in President Starbucks Coffee Shanghai Corp (上海統一星巴克咖啡有限公司) to the US coffee giant for NT$40.11 billion (US$1.33 billion), Alex Lo (羅智先), chairman of both companies, said at a news conference at the Taiwan Stock Exchange in Taipei.
The deal is to be the largest single acquisition by Starbucks, a press release issued by the US company said.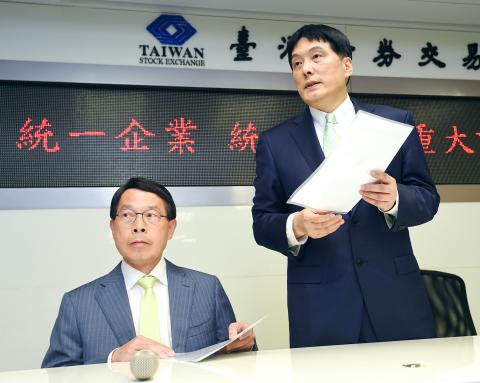 Uni-President Group chairman Alex Lo, right, speaks while vice president Tony Su looks on at a news conference at the Taiwan Stock Exchange in Taipei.
Photo: Chien Jung-fong, Taipei Times
"Starbucks will assume 100 percent ownership of approximately 1,300 Starbucks stores in Shanghai, and Jiangsu and Zhejiang provinces, building on the company's ongoing investments in China, its fastest-growing market outside of the United States in terms of store count," the release said.
East China is a significant and strategic region for the company, with Shanghai alone accounting for nearly 600 stores, the largest number of stores globally of any city where Starbucks has a presence, the US company said.
The deal would mean that Taiwanese food and retail conglomerate Uni-President Group (統一集團) would effectively relinquish its east China-based Starbucks operations to the Seattle-based coffee giant.
UPE and PCSC are to book a total of NT$33.45 billion in profit from the deal, pending regulatory approval, Lo said.
Meanwhile, the two companies are to purchase from the US firm its 50 percent stake in President Starbucks Coffee Corp (統一星巴克) for NT$5.42 billion, giving the Taiwanese conglomerate complete ownership of the domestic Starbucks franchise.
The deal was motivated by the US company's plans to consolidate development efforts in China, Lo said, adding that both UPE and PCSC plan to expand their hold on the local market.
"Our partnership with Starbucks remains strong, and both parties are satisfied with the outcome," Lo said, adding that the deal has been in discussion for a few years.
In the two decades since the beginning of the partnership in 1997, Uni-President Group has turned Starbucks into one of the most popular coffee brands in Taiwan, as well as in Shanghai, and Jiangsu and Zhejiang provinces, Lo said, adding that the results speak for themselves.
In Taiwan, the group operates approximately 410 Starbucks stores.
UPE and PCSC requested that trading in their shares be suspended yesterday due to the release of material information.
On Wednesday, PCSC shares surged to a record high NT$290 before closing at NT$288.50.
UPE's stock price did not see significant movement this week, ending at NT$60.50 on Wednesday.
Both companies' shares are to resume trading today, separate filings with the Taiwan Stock Exchange showed.
Comments will be moderated. Keep comments relevant to the article. Remarks containing abusive and obscene language, personal attacks of any kind or promotion will be removed and the user banned. Final decision will be at the discretion of the Taipei Times.