Businesses brace for new Indian tax
MULTIPLE RATES: Nearly 1,000 movie theaters are to close tomorrow in protest after Tamil Nadu State announced a 30 percent levy on top of the 28 percent GST
India yesterday launched its biggest ever fiscal reform with the government promising that a new nationwide tax would make the economy stronger and less corrupt, but businesses are nervous about the revolution.
The new goods and services tax (GST) replaces more than a dozen levies imposed nationally and by the 29 states. It aims to transform the nation of 1.3 billion people and its US$2 trillion economy into a single market.
Indian Prime Minister Narendra Modi held a special midnight legislative session to launch GST which he called "a good and simple tax."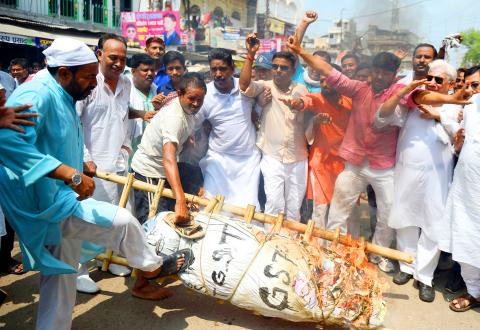 Traders shout slogans as they burn an effigy of Indian Minister of Finance Arun Jaitley on Friday during a protest in Allahabad against the new goods and services tax.
Photo: AFP
"With GST, the dream of one India, great India, will come true," he said.
"GST is a simple, transparent system which prevents generation of black money and curbs corruption," said Modi, who jolted the nation last year by withdrawing more than 85 percent of India's bank notes from circulation in a clampdown on under-the-table dealings.
However, Modi, who has put huge efforts into the economy as he targets re-election in 2019, said there would be teething troubles.
Jammu and Kashmir State has refused to sign onto the one tax regime and traders have begun protesting, while the main opposition Congress Party boycotted the launch ceremony.
Businesses are nervous about GST, which sets out four different rates of between 5 percent and 28 percent instead of the one rate originally envisioned.
The GST rule book is more than 200 pages and last-minute changes were still being made late on Friday. It allows local authorities to impose some taxes.
The first fallout was seen yesterday, when the southern state of Tamil Nadu announced a 30 percent levy on movie tickets, in addition to the 28 percent GST fee.
All 969 movie theaters in the state are to close from tomorrow in protest, said M. Subramanian, president of the regional theater owners' association.
"Because of this we will lose customers and it will encourage illegal downloads of movies," he said. "We will continue the strike until this 30 percent tax is removed."
"That's the risk you have when you don't subsume all the taxes," PwC India partner and leader of indirect tax Pratik Jain said. "It defeats the purpose of one tax."
Textile traders and other sectors went on strike ahead of the launch and many businesses say they are unclear about what to charge.
Bhartiya Udyog Vyapar Mandal, a national traders association that claims 60 million members, called a one-day strike on Friday in protest.
Many are worried because while returns have to be filed by computer, they do not have or do not understand the technology.
"Since August last year, we have put forward our demands on GST, but the government has never responded," the association's national secretary-general Vijay Prakash Jain said. "We told the government, either fix this, or we will strike."
Most economists agree that the reform — first proposed in 2006 — is long overdue, but warn of an initial shock to the economy as businesses adjust.
Credit Suisse Group AG managing director in India Neelkanth Mishra warned that "the next few months will be a period of uncertainty in which no company would want to invest, that slows down the investment cycle and acts as a drag on the economy."
Rating agency ICRA said that while GST would increase in compliance in some sectors, smaller traders and businesses that are not compliant would lose business to large firms with big networks.
"Although it is still far from perfect, we realize how much better it is than the myriad taxes we've been subjected to over the last several decades," Jain said.
"The old India was economically fragmented. The new India will create one tax, one market for one nation," Indian Minister of Finance Arun Jaitley said.
Comments will be moderated. Keep comments relevant to the article. Remarks containing abusive and obscene language, personal attacks of any kind or promotion will be removed and the user banned. Final decision will be at the discretion of the Taipei Times.