MAS says it's not ready to ease property curbs
Singapore's central bank said it is not yet time to ease property curbs and the adjustments made by the government in March do not signal an unwinding of the measures.
While the property market has stabilized, "it is, however, not time yet to ease the cooling measures. They remain necessary," Monetary Authority of Singapore (MAS) Managing Director Ravi Menon told reporters yesterday at the release of the bank's annual report.
Mortgage rates are very low and "the risk of a renewed unsustainable surge in property prices is not trivial," he said.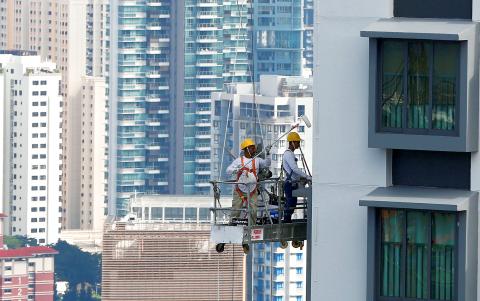 Workers paint the side of an apartment building in Singapore on Wednesday.
Photo: Reuters
The city-state's government imposed a number of restrictions beginning in 2009 to cool a red-hot market, causing prices to decline for more than three years.
It relaxed some of the measures in March, but left most of the restrictions in place.
"The calibrated adjustments by the government earlier this year do not signal the start of an unwinding of the property cooling measures, as some commentators have suggested," Menon said.
ADJUSTMENTS
The government in March reduced stamp duty imposed on sellers and some mortgage restrictions, helping stoke optimism that Singapore's property market is rebounding, with home sales jumping and developers making more aggressive bids at land auctions.
Redevelopment deals, where a group of homeowners band together to sell entire apartment blocks at a hefty premium, have also made a comeback after slowing to a trickle in the past three years.
Menon said investors are still searching for higher yields and safety in property markets around the world, and authorities across the region — including in Hong Kong, South Korea and New Zealand — have tightened restrictions.
"We must be vigilant that tightening measures elsewhere do not lead to spill-over of investor demand into the Singapore market," he said. "Easing the measures now would send a wrong signal."
Singapore was ranked ninth among the world's top global cities for real-estate investors, trailing only Hong Kong in Asia, asset management firm Schroders said.
EYE ON TRADE
In its annual report, the MAS said it would closely monitor the recovery in global trade, which has helped spur growth in the export-reliant economy.
It "will be keeping close watch on the sustainability of the cyclical upswing" and "the unevenness in performance among domestic corporates," the agency said.
Singapore has benefited from a rebound in exports since the end of last year, but two consecutive months of contraction have raised concerns over whether the recovery can be sustained.
Demand from Chinese consumers and manufacturers, which has been a key driver for the strong growth in Asian exports this year, might moderate as authorities seek to curb debt.
Menon said economic growth in the city-state might exceed last year's expansion of 2 percent in line with the government's forecast, mainly due to a pickup in trade and financial services.
The MAS, which uses the currency as its main tool rather than interest rates, stuck to its neutral policy in April.
Menon said the "stance remains appropriate for an extended period in view of the stable inflation and growth prospects for 2017."
Comments will be moderated. Keep comments relevant to the article. Remarks containing abusive and obscene language, personal attacks of any kind or promotion will be removed and the user banned. Final decision will be at the discretion of the Taipei Times.