In bet on cheap oil, Ford to move Focus production to China
Ford Motor Co on Tuesday said that it would move some production of its Focus small car to China and import the vehicles to the US in a long-term bet on low oil prices and stable US-China trade relations, despite recent tensions.
The move suggests China could play a much larger role in future vehicle production for North America, perhaps eclipsing Mexico as a low-cost manufacturing source.
Ford painted the production shift from Mexico to China, scheduled for the middle of 2019, as a purely financial move that would save the company US$500 million in reduced tooling costs.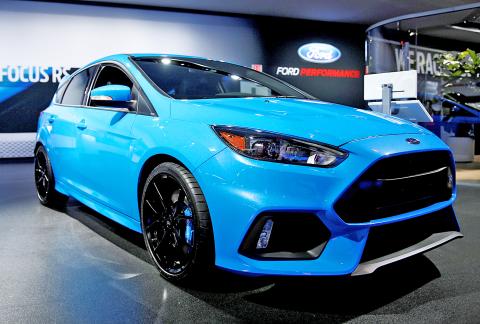 A Ford Focus RS is displayed at the North American International Auto Show in Detroit, Michigan, on Jan. 12.
Photo: Reuters
However, Ford also expects to ship about 80,000 vehicles to China this year, including the redesigned Lincoln Navigator luxury sport utility vehicle (SUV), which goes into production this fall at Ford's Kentucky truck plant.
Ford's decision to import its first vehicles from China to the US is also the first major manufacturing investment decision made by new chief executive Jim Hackett, who succeeded Mark Fields last month.
Discussion about the small-car production shift from Mexico to China began "a couple months ago" under Fields, Ford president of global operations Joe Hinrichs said.
The decision also signals a shift in strategy at Ford, which is responding to dwindling US consumer demand for small cars in favor of more expensive and more profitable trucks and SUVs. Cars accounted for more than 50 percent of US auto sales as recently as 2012, but have fallen to just 37 percent of sales this year.
Ford said it would invest US$900 million at the Kentucky truck plant to build the redesigned Navigator and Ford Expedition. It has contingency plans to build more of the big SUVs at an Ohio plant if demand grows.
In January, after US President Donald Trump repeatedly criticized Ford for shipping small-car manufacturing to Mexico, Ford said it would kill plans to build a US$1.8 billion Focus plant in San Luis Potosi and instead produce the new Focus at an existing plant in Hermosillo.
"The Ford decision shows how flexible multinational companies are in terms of geography," US Secretary of Commerce Wilbur Ross said in a statement.
Trump did not address the issue on Tuesday.
White House Press Secretary Sean Spicer said Trump "wants to create a tax system [so] that companies want to come back and bring back jobs in manufacturing here in the United States."
Although it is cheaper to build and ship cars to the US from Mexico than China, "this was not a variable cost decision," Hinrichs said in a briefing on Tuesday.
"It allows us to free up a lot of capital," because Ford now has to retool only one plant — the existing Focus factory in Chongqing — rather than two to supply North America, he said.
The current Focus is to be phased out of production in Wayne, Michigan, in the middle of next year, Hinrichs said. The Wayne plant is to begin building a new Ranger midsize truck late next year and a Bronco midsize SUV in 2020.
No US jobs are to be affected by shifting Focus production to China, Ford said, adding that it employs more US hourly workers and builds more vehicles in the US than any other automaker.
Hinrichs said "the capital saving outweighs the risk" of having to pay a potential border tax, or import tax, on the Chinese-built Focus.
Comments will be moderated. Keep comments relevant to the article. Remarks containing abusive and obscene language, personal attacks of any kind or promotion will be removed and the user banned. Final decision will be at the discretion of the Taipei Times.