Amazon's Whole Foods deal ups the ante on Carrefour
Carrefour SA, which pioneered the big-box supermarket combining food and general merchandise in the 1960s, has been stepping up efforts to fuse e-commerce and in-store shopping. Amazon.com Inc's US$13.7 billion deal for Whole Foods Market Inc ups the ante for the French retailer.
Carrefour this month named a new CEO, turning to 44-year-old Alexandre Bompard, who has been leading electronics retailer Fnac Darty SA since 2011.
His mission, which is taking on additional urgency in the wake of the Amazon deal, is to expand his new employer's online presence while revamping its tired "hypermarkets."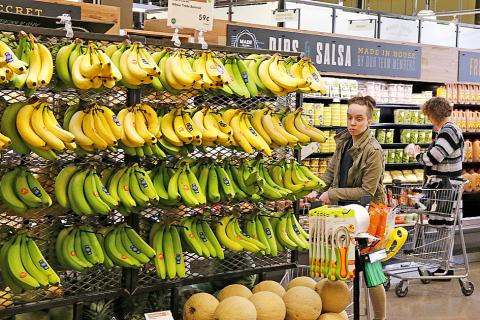 Customers shop at a Whole Foods Market in Upper Saint Clair, Pennsylvania, on May 3.
Photo: AP
Such stores have gone from being Carrefour's backbone to its Achilles heel, struggling with competition from Amazon, as well as nimbler big-box operators like Societe d'importation Leclerc SA, discounters and higher-end grocers like Grand Frais.
"The hypermarket concept needs to be fundamentally rethought in terms of what it's bringing to the market and in terms of differentiation from online," Bain & Co retailer consultant Joelle de Montgolfier said.
French retailers, with Carrefour among the leaders, have been more successful in e-commerce. Click-and-collect services have flourished in France for more than a decade, making the industry more advanced in that respect than the US.
Carrefour has more than 500 sites where online shoppers can pick up their groceries, while Wal-Mart Stores Inc started introducing the option in 2014.
Bompard takes over as French President Emmanuel Macron, bolstered by a strong legislative majority, aims to loosen up the nation's rigid labor market and stimulate the digital economy.
At Fnac, Bompard wowed investors by steering the retailer in a high-tech direction and by leading the acquisition of appliance chain Darty.
Together, Fnac and Darty's e-commerce receive nearly as many visitors as Amazon in France, according to a study by Mediametrie and French e-commerce federation Fevad.
Shares of Fnac Darty roughly tripled since its 2013 initial public offering and digital prowess has spared it from going the way of Borders bookstores, which succumbed to Amazon.
Carrefour shares are trading about 70 percent below their 1999 peak as rapid growth in Brazil and the roll-out of smaller city shops have failed to compensate for investor concern over the French hypermarkets.
After the Whole Foods deal on Friday, Carrefour plunged along with other supermarkets, before rebounding slightly on Monday.
Even before the arrival of Bompard, who takes over on July 18, Carrefour has been trying to boost its e-commerce presence. Its more than 50 acquisitions since 2000 include organic food provider Greenweez and technology and home goods marketplace Rue du Commerce.
Online sales had a gross merchandise value of 1.2 billion euros (US$1.34 billion) last year and current CEO Georges Plassat has set a target of 4 billion euros annually by 2020.
With a digital-savvy new CEO, Carrefour could find itself on Amazon's shopping list, Bryan Garnier analyst Xavier Caroen said.
"If worst comes to worst, provided that Alexandre Bompard does the job properly, Carrefour would be a target of choice for Amazon," Caroen said in a research note.
Comments will be moderated. Keep comments relevant to the article. Remarks containing abusive and obscene language, personal attacks of any kind or promotion will be removed and the user banned. Final decision will be at the discretion of the Taipei Times.