Barclays charged over Qatar funding
FRAUD: Four former executives, including ex-CEO John Varley, face charges over the bank's 2008 capital raising from Qatar and a US$3 billion loan facility to the Gulf state
Barclays PLC and four former executives were charged with conspiracy to commit fraud regarding the bank's 2008 capital raising from Qatar, following a five-year investigation into one of the most turbulent periods in financial history.
The Serious Fraud Office (SFO) yesterday said that former CEO John Varley, former chairman of investment banking for the Middle East Roger Jenkins, former wealth chief Thomas Kalaris and former European head of the bank's financial institutions group Richard Boath face charges along with Barclays.
The four men are the most senior UK banking executives charged since the financial crisis, which forced many lenders to seek government bailouts and sparked a global recession.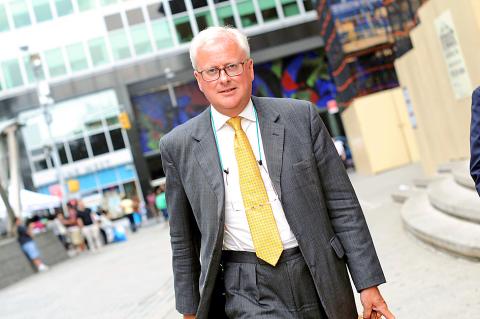 Former Barclays PLC chief executive officer John Varley makes his way from the US Bankruptcy Court in New York on June 22, 2010.
Photo: Reuters
Barclays avoided a state rescue with a £12 billion (US$15 billion) fundraising from Qatari investors, but now faces charges relating to fees paid as part of the deal and a US$3 billion loan facility made available to Qatar.
The case is one of a number of lingering investigations over the bank's behavior dating back nearly a decade.
Since the financial crisis, the London-based bank has faced probes ranging from the rigging of key benchmark rates to more recent scandals related to how executives dealt with whistle-blowers.
Barclays said it is "considering its position" in relation to the allegations.
It added that one of its main subsidiaries might also face additional charges in the case.
Varley and Jenkins face three counts of conspiracy to commit fraud and unlawful financial assistance.
Boath and Kalaris each face one fraud count.
A London court hearing is scheduled for July 3.
A lawyer for 61-year-old Jenkins said his client would "vigorously defend against these charges."
"As one might expect in the challenging circumstances of 2008, Mr Jenkins sought and received both internal and external legal advice on each and every subject mentioned in the accusations leveled by the SFO today," said Brad Kaufman, Jenkins' US based lawyer at Greenberg Traurig.
Lawyers for the other three defendants were not immediately available to comment.
Varle was appointed Barclays CEO in 2004 after starting his career at the bank in the 1980s.
He presided over the lender during the 2008 financial crisis before handing the reins to Bob Diamond in 2011.
Jenkins, who now lives in Malibu, California, worked most of his career at the lender in roles including running a structured capital markets business that developed tax arbitrage strategies for clients.
Comments will be moderated. Keep comments relevant to the article. Remarks containing abusive and obscene language, personal attacks of any kind or promotion will be removed and the user banned. Final decision will be at the discretion of the Taipei Times.