INTERVIEW: Brother Hotel chairman eyeing baseball legacy
Brother Hotel chairman Hong Ton-son has secured a syndicated loan to build a baseball museum and a hotel in Taoyuan. The 80-year-old brands the investment project as a representation of his undying passion for baseball and his last hospitality venture to help promote the sport in Taiwan. Hong explained his plans during an interview with 'Taipei Times' staff reporter Crystal Hsu at the firm's hotel in Taipei on Friday last week
Taipei Times (TT): You have secured a syndicated loan of NT$1.3 billion (US$42.82 million) to build a new hotel in Taoyuan. Can you elaborate on the project?
Hong Ton-son (洪騰勝): I intend to use the money to build a baseball hall of fame and museum, and a hotel at the ballpark in Taoyuan's Longtan District (龍潭). Although Brother Hotel (兄弟飯店) sold its baseball team, the Brother Elephants (兄弟象), a few years ago, the family owns the ballpark covering more than 15,000 ping [49,587m2].
The museum and the Hall of Fame Garden Hotel (名人花園酒店) are to cover about 8,000 ping. The investment is a venture of my own and my children. My four brothers have nothing to do with it. More money is needed to fulfill what is likely the last ambition of my life, since I am now 80 years old.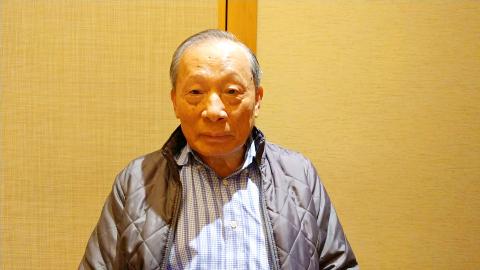 Brother Hotel chairman Hong Ton-son poses in the Taipei hotel's Japanese restaurant during an exclusive interview on Friday last week.
Photo: Crystal Hsu, Taipei Times
The project might cost NT$1.9 billion altogether. Baseball is my life's passion and my family's as well, although we are no longer able to run a professional baseball team. We play the game as a pastime and a hobby.
TT: What will the hall of fame and museum look like?
Hong: The museum is to be a five-story building shaped like a baseball. The hall of fame is to occupy the top two floors of the building.
The space is intended to preserve the history of the nation's favorite pastime and celebrate legendary players, coaches and other figures who have made the game a favorite sport in Taiwan. In other words, the museum aims to help the memories live on and celebrate the game.
There will be conference rooms, exhibition and retail space, where visitors can watch reruns of the World Baseball Classic, listen to speeches by professional and retired players, umpires and coaches.
People can visit exhibits of baseball games and buy souvenirs. I conceived the idea after visiting the US Baseball Hall of Fame and Museum and plan to turn the baseball field into a theme park and a tourist attraction.
TT: Can you share more details about the new hotel?
Hong: The hotel will have seven floors above ground and two in the basement. There are to be 128 guest rooms and the assorted amenities required of an international five-star resort and business hotel. Both the museum and hotel are to apply for "green" architecture certifications.
If the complex proves to be a success, I would try to convince schools, companies and public institutions across the nation to form 1,000 softball teams. It is not expensive to own an amateur softball team. The game will not cause serious injury to players, so people of all ages can play. I can help recruit and train players in light of my credentials in Taiwanese professional baseball. The goal is difficult, but not untenable, and my experience pushing for the launch of the Chinese Professional Baseball League can help.
If successful, the hotel might even give me the financial means to buy back or co-own the professional baseball team my family sold to CTBC Financial Holding Co (中信金控) in 2013.
TT: What are your views on the hospitality industry in Taiwan?
Hong: Taiwan's frigid ties with China have dealt a heavy blow to hotels, restaurants, theme parks, gift shops and tour bus companies devoted to entertaining Chinese tourists. More than 100 hotels nationwide are up for sale, while others are seeking to compete with hotels with a better diversified clientele, thus making the field crowded.
The situation will deteriorate as more players enter the market later this year and beyond.
We welcome travelers from South Asia and Southeast Asia, but I do not think they can fill the void left by Chinese tourists, who have made significant contributions to the global travel industry.
The Brother Hotel does not plan to apply for halal certification for any of its seven restaurants where Taiwanese diners constitute the bulk of the customers. I agree travelers like to stay in new hotels. That is why we spent tens of millions of New Taiwan dollars renovating the guestrooms for the past one-and-a-half years. While the hotel is 38 years old, its rooms are newly remodeled.
As for the coming entry of nearly 2,000 guest rooms by Caesar Park Hotels and Resorts (凱撒飯店), I do not believe it will pose a serious threat to well-established hotels in central Taipei.
Although new hotels near MRT, railway and high-speed rail stations enjoy convenient transport links, they are, after all, in New Taipei City, a second-tier municipality compared with Taipei.
TT: With intensifying competition, do you expect the Brother Hotel to achieve revenue growth this year?
Hong: I am confident about a 20 percent increase in revenue this year now that the renovation is over and all 250 guest rooms are available to customers. The renovation will help raise average room rates to NT$4,000 per night this year, from NT$3,000 last year.
Meanwhile, occupancy rates might return to 60 percent, after falling to 50 percent due to the construction work.
Food and beverage sales are expected to generate 70 percent of the firm's revenue target, with the rest coming from the lodging facilities.
The Brother Hotel's restaurants are popular among Taiwanese diners. The strategy makes the Brother Hotel less vulnerable amid the sharp decline in Chinese tourists.
Altogether, foreigners account for 70 percent of travelers at the Brother Hotel, with Japanese tourists making up 50 percent.
TT: A 38-year old facility, will the Brother Hotel consider partaking in urban renewal?
Hong: Not in another 20 years, in my view. The facility remains competitive and profitable. The government can help the industry by making labor rules more flexible. The stiff overtime pay requirements deny employees the opportunity to work overtime and many want to do so to increase their income.
The government should apply different rules to different industries. The service sector needs more flexibility in terms of working schedules. The policy fails to benefit employers or employees.
Comments will be moderated. Keep comments relevant to the article. Remarks containing abusive and obscene language, personal attacks of any kind or promotion will be removed and the user banned. Final decision will be at the discretion of the Taipei Times.