Amazon-Whole Foods deal roils Wall Street
'SHOCK WAVE': Whole Foods shares rose 29.1 percent after Amazon reached a deal to acquire the upscale grocery chain in a major step into the brick-and-mortar sector
Major US stock indices ended little changed on Friday even as Amazon.com Inc's US$13.7 billion deal to buy upscale grocer Whole Foods Market Inc roiled the retail sector and rocked shares of an array of companies, including Wal-Mart Stores Inc and Target Corp.
Energy sector shares helped buoy the S&P 500 and the Dow industrials, while Apple Inc dragged on the NASDAQ.
The deal by Amazon, a proven retail disruptor, marked a major step by the Internet retailer into the brick-and-mortar retail sector.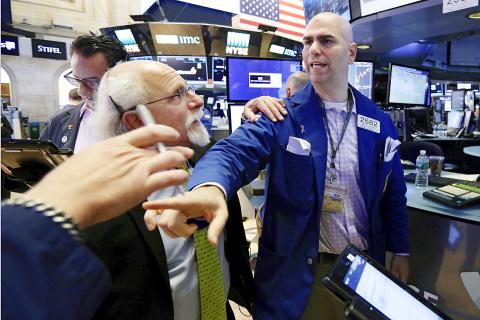 A trader works on the floor of the New York Stock Exchange on Friday.
Photo: AP
Wal-Mart shares sank 4.7 percent, weighing the most on the Dow. Shares of Target, Walgreen Boots Alliance Inc and Costco Wholesale Corp fell between 5 and 7 percent.
"It's going to send a shock wave across the board and this represents the true utmost in market disruption," said Burns McKinney, chief investment officer with the Dallas investment team for Allianz Global Investors. "There's big winners and big losers."
Amazon shares gained 2.4 percent, making the stock the biggest boost to the S&P 500. Whole Foods shares surged 29.1 percent.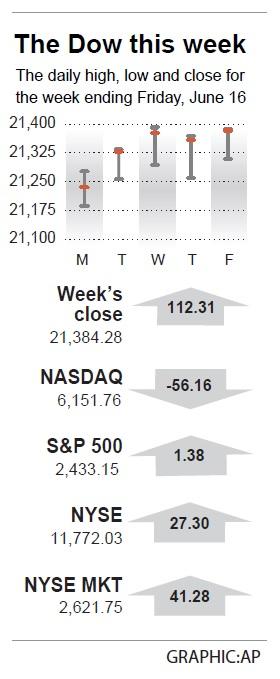 The S&P consumer staples sector fell 1 percent, by far the worst performing major sector. The S&P 500 food and staples retailing index dropped 4.2 percent.
Grocery chain Kroger Co was the biggest loser on the S&P 500, falling 9.2 percent, while Supervalu Inc dropped 14.4 percent.
"I would not like to be somebody playing in the grocery space right now," said Jan Rogers Kniffen, chief executive of retail consultancy firm J. Rogers Kniffen WWE in New York.
The Dow Jones Industrial Average on Friday rose 24.38 points, or 0.11 percent, to end at 21,384.28, the S&P 500 gained 0.69 point, or 0.03 percent, to 2,433.15 and the NASDAQ Composite dropped 13.74 points, or 0.22 percent, to 6,151.76.
For the week, the Dow rose 0.53 percent from 21,271.97 points and S&P inched up 0.06 percent from 2,431.77, while the NASDAQ fell 0.9 percent from 6,207.92.
The technology sector fell 0.2 percent on Friday, continuing its slump. Apple shares closed down 1.4 percent.
Tech has led the S&P 500's 8.7 percent rally this year, but posted its second week of declines, prompting questions over whether investors are moving money into other sectors.
"I think we need to see more of a pullback to say there is a serious rotation going on as opposed to just some profits coming off the top," said Chuck Carlson, chief executive officer at Horizon Investment Services in Hammond, Indiana.
Energy shares rose 1.7 percent, propping up the S&P 500. Oil prices bounced off the year's lows as some producers reduced exports and US rig additions slowed.
US homebuilding fell for a third straight month last month to the lowest in eight months as construction activity declined broadly.
Investors were continuing to digest the US Federal Reserve's interest rate hike on Wednesday, with some concerned about the economy's ability to absorb higher rates.
Booz Allen Hamilton Inc shares dropped 19 percent after news of a US Department of Justice investigation.
About 9.7 billion shares changed hands in US exchanges on Friday, well above the 6.8 billion daily average over the past 20 sessions.
Comments will be moderated. Keep comments relevant to the article. Remarks containing abusive and obscene language, personal attacks of any kind or promotion will be removed and the user banned. Final decision will be at the discretion of the Taipei Times.