Amazon to buy Whole Foods
SHARING THE WEALTH: Shares in other grocers lost a collective US$35 billion, while a 2.4 percent rise in Amazon shares means the acquisition is nearly free for shareholders
Amazon.com Inc on Friday said it is to buy Whole Foods Market Inc for US$13.7 billion, in an embrace of brick-and-mortar stores that could turn the high-end grocer into a mass-market merchant and upend the already struggling US retail industry.
Amazon used aggressive pricing to become an e-commerce retail juggernaut and has been experimenting with brick-and-mortar outlets.
It is to take over the natural and organic grocer pioneer with 456 stores, a mecca for young, high-end shoppers, that has been struggling to rein in prices and integrate technology.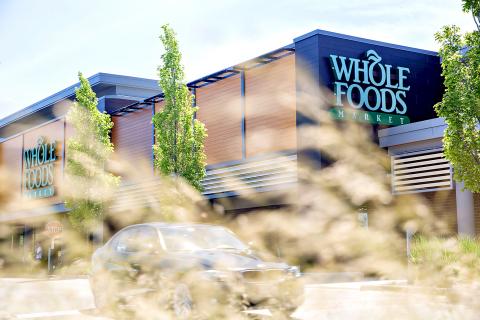 A vehicle on Friday passes in front of a Whole Foods store in Willowbrook, Illinois.
Photo: Bloomberg
The deal represents a dramatic turn in strategy for Amazon, which has offered food delivery through its Fresh service for a decade, but has not made a major dent in the US$700 billion grocery market.
Shares of dozens of supermarkets, food producers, payment processors and shopping malls collectively lost at least US$35 billion in US market value as the news reverberated across financial markets.
Shares of grocer Kroger Co fell 9.2 percent, while Wal-Mart Stores Inc fell 4.7 percent.
Amazon's shares rose 2.4 percent to US$987.71, adding US$11 billion to its market capitalization, which in one sense makes the acquisition nearly free for Amazon shareholders.
"Supermarkets will now have to contend with not only competition with each other and non-traditional grocers like Wal-Mart Stores Inc and Target Corp, but with a retailer like Amazon which has the financial capacity to price aggressively," Moody's Investors Service vice president and senior credit officer Mickey Chadha said.
Amazon agreed to pay US$42 per share in cash for Whole Foods, a 27 percent premium on the Austin, Texas-based grocer's closing share price on Thursday.
However, in a sign that investors believe a rival bid is likely, Whole Foods shares rose above the offer price to close at US$42.68.
Whole Foods has posted seven straight quarterly sales declines at established stores and overhauled its board of directors in the face of pressure from activist hedge fund Jana Partners LLC.
A former grocery expert at Amazon predicted that the chain, nicknamed "Whole Paycheck," would add a selection of discounted food and build out non-grocery areas within stores, particularly for pharmaceuticals and Amazon devices.
"There's no value in Amazon keeping the status quo at Whole Foods. Whole Foods was losing market share to Kroger," said Brittain Ladd, who until earlier this year was a senior manager working to roll out AmazonFresh globally.
"It's pharmacy. It's having the ability to put stores that are similar to Apple stores inside Whole Foods," he said.
Amazon has been looking at shop layouts that could allow traditional in-store purchase, online ordering with on-site pickup and home delivery, using store warehouse space as a distribution point, Ladd said.
Despite Amazon's reputation for harnessing technology, a prototype store inside its corporate office in Seattle, called Amazon Go, which uses sensors and tech-savvy cameras to detect shoppers' selections and then charge their Amazon accounts, has rolled out more slowly than planned, a person familiar with the matter said.
While some analysts expect Amazon to bring vast buying power to Whole Foods, Amazon's heft in the food market is far smaller than in other areas, and high demand for organic products gives farmers unusual bargaining power.
Amazon spokesman Drew Herdener said plans do not include reducing jobs as the result of the deal and that the company does not plan to automate Whole Foods cashiers jobs with Amazon Go technology.
The grocer is to continue to operate stores under the Whole Foods Market brand, and Whole Foods chief executive officer John Mackey is to remain his position, the companies said.
Amazon and Whole Foods expect to close the deal during the second half of this year.
Comments will be moderated. Keep comments relevant to the article. Remarks containing abusive and obscene language, personal attacks of any kind or promotion will be removed and the user banned. Final decision will be at the discretion of the Taipei Times.