Diamond sellers crack US millenial code, but challenges loom
Diamonds are making a comeback in the US as more millennials fall for crystals long associated with "eternal" love.
US diamond demand hit US$40 billion last year, up 4.4 percent from the prior year and comprising half of global diamond revenue for the first time since the 1990s, according to global diamond mining and retail giant De Beers SA.
The surge has come despite sluggish economic growth and overproduction of the jewels that has depressed prices, De Beers vice president of marketing Stephen Lussier said.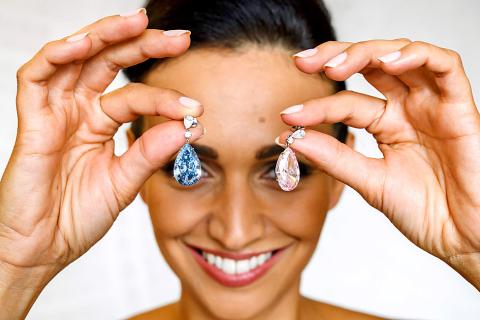 A model holds up "The Apollo Blue," left, and "The Artemis Pink" diamonds, mounted as earrings, during a press preview by Sotheby's auction house in Geneva, Switzerland, on May 11.
Photo: AFP
The industry has gotten more bullish in the US with the success of a marketing pivot targeted at millennials, those born between 1981 and 2000, who have shown concern for social issues, including the ethics of harvesting of diamonds from war-torn countries.
Increased demand from this key demographic has lifted sales of diamonds that cost between US$1,000 and US$5,000. The US, along with China and India, are considered the most crucial components of the US$80 billion global diamond market.
Gone is the motto "diamonds are forever" that was introduced after World War II and popularized by Marilyn Monroe, who sang Diamonds Are a Girl's Best Friend in the 1953 movie Gentlemen Prefer Blondes.
Today's slogan, "Real is rare, real is a diamond," positions diamonds as a "symbol of authentic connection and commitment" and an antidote to all things mass-produced, industry lobby the Diamonds Producers Association said.
"We want to change their perception, what they think about diamonds," said Lussier of De Beers, which is 85 percent held by Anglo American PLC and 15 percent by the government of Botswana.
De Beers, through its Forevermark brand, provides information on diamond origins and supports Women for Women International, a nonprofit that provides aide to women in war-torn countries.
"Millennial consumers have distinctive preferences, which in many ways diverge from previous generations," Ashley Wallace, an analyst from Bank of America Merrill Lynch, said in a research note.
"They tend to be more value-conscious, more concerned with sustainability and ethical production, and often value unique and individual products versus items that are standardized and mass-produced," Wallace said.
Another shift has been greater use of diamonds as an accessory and not simply for rings.
Jewelers are making creative uses of the four "C's": cut, clarity, carat weight and color.
Popular choices include diamonds in red, coffee or champagne colors. Sales of so-called "designer" diamonds as accessories comprise 60 percent of the US total, with solitary diamonds at 40 percent.
While diamond sellers are more confident they have cracked the millennial code, there are some challenges on the horizon.
Most worrisome is the trend of more consumers preferring cheaper synthetic diamonds, such as those made by California start-up Diamond Foundry, which is backed by actor Leonardo DiCaprio, the star of the 2007 movie Blood Diamond.
Growth of synthetic diamonds has taken market share from giants such as Tiffany & Co, Blue Nile and Signet Jewelers Ltd.
Comments will be moderated. Keep comments relevant to the article. Remarks containing abusive and obscene language, personal attacks of any kind or promotion will be removed and the user banned. Final decision will be at the discretion of the Taipei Times.