Audi widens Europe diesel-car recall
EMISSION WOES: The German firm is to recall about 24,000 sedans and coupes built between 2010 and 2013 that might spew out as much as twice the pollution limits
Audi's effort to emerge from the diesel scandal that has engulfed parent Volkswagen AG for more than a year suffered a setback as the luxury-car brand identified more cars in Europe that might breach emission rules.
About 24,000 Audi flagship A8 sedans and A7 four-door coupes built between 2010 and 2013 are to be recalled after "irregularities" were discovered in emission tests that indicated the cars might spew out as much as twice the pollution limits under some circumstances, Ingolstadt, Germany-based Audi said on Thursday in an e-mailed statement.
"Engine speed can be influenced unfavorably by the gearbox software" in the affected cars, which can be made compliant with a software update that takes about 30 minutes, Audi said.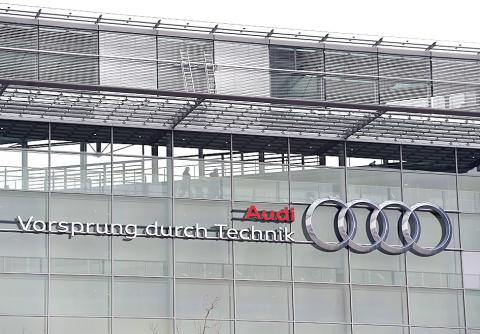 The logo of German automaker Audi is pictured at a company building in Ingolstadt, Germany, on Thursday.
Photo: AFP
The manufacturer agreed with German regulators on a recall that starts next month and affects 14,000 cars in its domestic market alone.
Audi is in "constant contact with the relevant authorities," a spokesman said by telephone.
The fresh findings on Audi's top models are a blow to a company that is Volkswagen's biggest profit contributor and therefore a vital component to absorb the hit from the diesel-emissions scandal that has cost the manufacturer 22.6 billion euros (US$25.4 billion) so far.
From about 11 million diesel cars affected worldwide across the Volkswagen group, Audi has accounted for about 2.1 million vehicles until now.
The revelation comes two weeks after Audi extended the contract of chief executive officer Rupert Stadler.
Volkswagen chairman Hans Dieter Poetsch last month said investigations by external law firms have not brought any evidence that board members were aware of or involved in the illicit conduct.
Volkswagen chief executive Matthias Mueller on Thursday was summoned to the German Ministry of Transport and Digital Infrastructure office in Berlin, a ministry spokesman said, without elaborating.
Volkswagen did not return calls seeking comment.
The ministry said it has issued a June 12 deadline for Audi to come up with a comprehensive plan to refit the cars.
A source close to Audi said problems in the interaction between transmission and engine control units are to blame for the emissions overshoot.
A proposal for a fix has already been submitted to Germany's KBA motor vehicle authority, the source said, declining to elaborate.
Audi has been falling behind German competitors Mercedes-Benz and BMW AG in the global luxury-car race, and now ranks third in sales, having previously aspired to gain the top slot.
German prosecutors are looking into Audi's role in the cheating and have raided offices of the company's law firm that conducted an external probe into the roots of the engine rigging.
Additional reporting by Reuters
Comments will be moderated. Keep comments relevant to the article. Remarks containing abusive and obscene language, personal attacks of any kind or promotion will be removed and the user banned. Final decision will be at the discretion of the Taipei Times.