China's bicycle renaissance no boon to producers as 'bottleneck' inevitable
In China, a bicycle-sharing phenomenon is changing the way urban dwellers get around — and forcing listed manufacturers to scramble to get a slice of the profits, but it is not translating into stock gains for the larger manufacturers.
Taiwan's Giant Manufacturing Co (巨大機械), the world's largest bike maker by market value, is to deliver 600,000 bikes by the end of the year to Ofo Inc (共享單車), a rental firm whose yellow two-wheelers command more than half of the market in China.
Shanghai Phoenix Enterprise Group Co (上海鳳凰企業集團), which has been making bikes in China since the 1950s, this month said that it would also supply Beijing-based Ofo with at least 5 million bicycles.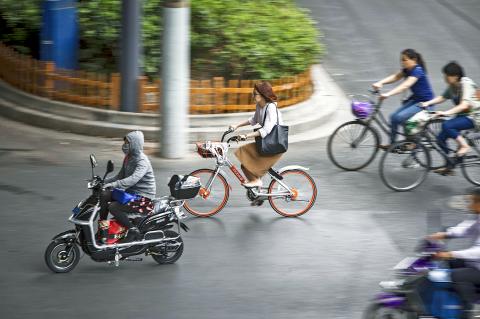 A woman, center, rides a Mobike bicycle on a street in Shanghai, China, on Thursday.
Photo: Bloomberg
Bike manufacturers "are now at a crossroads," said Rui Shi (史睿), a Beijing-based analyst at Internet consulting firm iResearch Consulting Group (艾瑞諮詢集團). "It's inevitable that big bicycle manufacturers will seek cooperation with rental companies, because the rise of ride-sharing will undermine their retail sales of low-end models."
So far, the rental companies have relied on smaller manufacturers to supply basic models at a low cost.
Tianjin Flying Pigeon Cycle Development Co (天津飛鴿車業) and Tianjin Fuji-ta Bicycle Co (天津富士達自行車), both privately held, are among Ofo's suppliers.
Ofo's chief rival, Mobike Technology Co Ltd (摩拜單車), built its signature orange-colored bikes, which use a GPS locking system, with the help of Foxconn Technology Group (富士康科技集團) and Tianjin Aima Sport Goods Co (天津愛瑪體育用品), according to the Beijing Morning Post.
"Some listed bike manufacturers have been latecomers in joining the bike-sharing business," said Wang Chenxi (王晨曦), an analyst with Analysys International (易觀國際) in Beijing. "They are more cautious than small, private makers and take a much longer time to make decisions."
Giant's shares have fallen more than 30 percent over the past two years as the company reshuffled management amid falling profits.
While stocks in the nation are surging, Giant last month slumped to a four-year low after it blamed a more than 20 percent drop in Chinese revenue for its first annual sales decline in seven years.
Asia's largest economy accounts for about a third of Giant's total revenue, according to Chang Chun-hao (張均壕), an analyst focused on leisure stocks and consumer companies at President Capital Management Corp (統一投顧) in Taipei.
Phoenix shares jumped late last year on speculation it was cooperating with major bike-sharing firms. The shares then tumbled after the company denied this and are now down 48 percent from a December last year peak.
Phoenix is yet to provide contract or pricing details on this month's bike supply agreement with Ofo.
Zhonglu Co (中路), maker of China's popular Forever bike brand, has had similar struggles.
The Shanghai-based manufacturer in January invested 6.5 million yuan (US$946,000) in a smaller bike-sharing company called U-bicycle (優拜), even after expressing skepticism about the profitability of the industry and warning that the deal could result in a loss.
Its shares have fallen 37 percent so far this year.
Big bike manufacturers might have to reorient their production toward the low-end models demanded by bike-sharing firms, which offer thinner margins, said Wu Kan of Shanshan Finance (杉杉金融) in Shanghai.
"In the near term, manufacturers may do well relying on orders for rentals, but the good days won't last long," he said. "After the initial boom, the bike-sharing industry will hit a bottleneck."
Given the models favored by rental companies are cheap, they are not expected to contribute much to Giant's revenue or profit in the near term, company spokesman Ken Li (李書耕) said.
"But as it attracts more consumers to cycling, bike-sharing is expected to boost sales of high-end vehicles in the long run," he said.
Comments will be moderated. Keep comments relevant to the article. Remarks containing abusive and obscene language, personal attacks of any kind or promotion will be removed and the user banned. Final decision will be at the discretion of the Taipei Times.