Sharp confirms US panel plant plan
COOL CUSTOMER: Sharp's president said that while the US has been seeking investments, Taiwan's central and local governments have not been enthusiastic
Japan's Sharp Corp, which is now a subsidiary of Taiwanese manufacturing giant Hon Hai Precision Industry Co (鴻海精密), on Saturday confirmed that it is planning to set up a flat-panel plant in the US.
The plant is to produce small and medium-sized screens for a wide range of applications, Sharp president Tai Jeng-wu (戴正吳) said at an exhibition in Taipei.
Tai said the flat screen production facility would cater not only to smartphone brands, but also to value-added products in the aerospace and defense industries.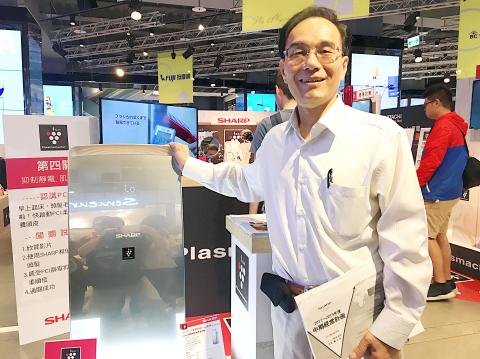 Sharp president Tai Jeng-wu smiles during a visit to the Syntrend Creative Park shopping mall in Taipei on Saturday.
Photo: CNA
Tai was part of a delegation led by Hon Hai chairman Terry Gou (郭台銘), that visited the White House twice last month and held discussions with US authorities on the possibility of investments there.
Hon Hai at the time said that it would disclose details when its talks with the US are completed and the plans are finalized.
Tai on Saturday said that Sharp and Hon Hai are likely to jointly invest about ¥800 billion (US$7.19 billion) in the US market.
While Tai did not disclose how much Sharp planned to spend on the flat-panel plant, he said that his company and Hon Hai were financially independent, and that Sharp would use its own funds to finance the US investment plan.
Sharp is evaluating when and where the plant will be built, Tai said, adding that he hopes the investment plan would be finalized as soon as possible.
He said that while the US federal government and six states have been aggressively seeking foreign investments, Taiwan's central government has been cold toward business, and the local governments have not been enthusiastic about private investment.
On May 8, Minister of Science and Technology Chen Liang-gee (陳良基) expressed support for Hon Hai's investment plan in the US as it would be close to its customers and markets there.
However, Chen said in an interview with Yahoo TV that it would be beneficial if the nation's component-based industries set up operations around the world, especially in India, to create more value elsewhere.
Comments will be moderated. Keep comments relevant to the article. Remarks containing abusive and obscene language, personal attacks of any kind or promotion will be removed and the user banned. Final decision will be at the discretion of the Taipei Times.