Malaysian GDP grows at fastest pace since 2015
Malaysia's economy grew at its fastest pace in two years in the first quarter, Bank Negara Malaysia said yesterday, boosted by stronger domestic demand and a pickup in exports.
Southeast Asia's third-biggest economy expanded 5.6 percent year-on-year in the January-to-March period, compared with 4.1 percent in the same period last year and 4.5 percent in last year's October-to-December period.
The result — much better than the 4.8 percent forecast in a survey by Bloomberg News — marks the third consecutive quarter of improving growth and is the fastest since the start of 2015.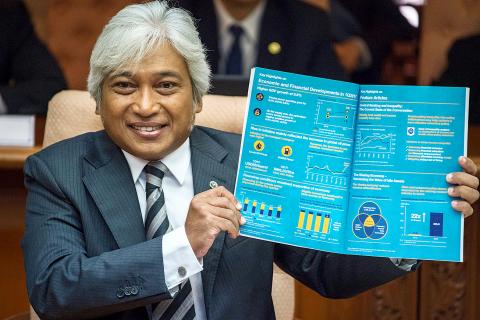 Bank Negara Malaysia Governor Muhammad bin Ibrahim holds up a copy of a report showing first-quarter GDP growth results at the central bank's offices in Kuala Lumpur yesterday.
Photo: AFP
"It's a lot stronger than expected and it was partly due to a rebound in exports and commodity prices," CIMB Private Banking economist Song Seng Wun (宋城煥) said.
Bank Negara said growth would be sustained this year as the global economy showed signs of improvement, while domestic demand remained healthy.
"The economy is on track to register higher growth in 2017," the central bank said in a statement. "Domestic demand is projected to continue to expand. Exports are expected to benefit from the improvement in global growth."
The figures come after export-reliant Malaysia recovers from years of falling oil prices and weak overseas demand.
The economy is forecast to grow 4.3 percent to 4.8 percent this year, but the central bank said that ringgit volatility might resurface on external uncertainties, including the pace of US interest rate normalization, global oil price fluctuations, and developments in global politics and financial markets.
The ringgit has climbed 3.7 percent against the US dollar this year, after depreciating almost 8 percent in the last quarter of last year amid a crackdown on the offshore forwards market.
Malaysia's GDP growth hit 4.2 percent last year, slowing from 5 percent in 2015 and 6 percent in 2014.
Comments will be moderated. Keep comments relevant to the article. Remarks containing abusive and obscene language, personal attacks of any kind or promotion will be removed and the user banned. Final decision will be at the discretion of the Taipei Times.