Japan's GDP posts fifth straight rise
Japan has posted its longest economic expansion in more than a decade, government data showed yesterday, marking a win for Tokyo's growth bid even though its battle to conquer deflation is still far from won.
The world's No. 3 economy grew 0.5 percent in the first quarter — or an annualized 2.2 percent. That was the fifth straight rise and up from a 0.3 percent expansion in the final quarter of last year.
Japan's prospects have been improving on the back of strong exports, with investments linked to the Tokyo 2020 Olympics also giving the economy a shot in the arm.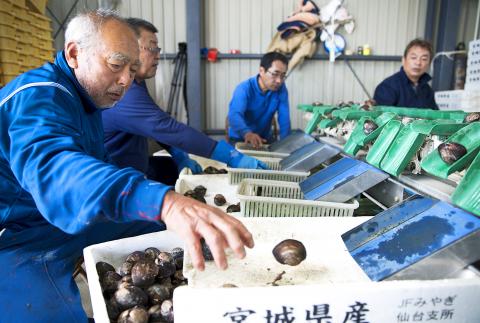 Fishermen select red clams before an auction at Yuriage Port in Miyagi Prefecture, Japan, on Wednesday.
Photo: Bloomberg
The labor market is tight and business confidence is strong with firms investing more.
However, consumer spending remains tepid and efforts to lift inflation have fallen flat, despite years of aggressive monetary easing by the Japanese central bank.
Private consumption picked up a modest 0.4 percent in the first quarter from zero growth in the previous three months. Individual spending accounts for more than a half of Japan's GDP.
"I can't give the 'all clear' yet," Tokyo-based Norinchukin Research Institute chief economist Takeshi Minami said.
"Public works spending is helping prop up growth this year, but it's tough to imagine that private spending is going to be a driving force for the economy," Minami said.
Nonetheless, the latest reading nonetheless means the Japanese economy has had its longest string of gains since 2006.
The Bank of Japan and the IMF both recently lifted their projections for the nation's growth rate.
Cash-rich firms have been stingy with pay hikes though, which hurts spending and acts like an anchor on the economy.
"Wages are still stagnating, despite sharp falls in unemployment," Capital Economics said in a commentary.
"This seems to be because aggressive monetary easing has failed to lift expectations of future price rises among households and firms," it said.
"Unless this changes, the chances of inflation settling at two percent or higher are slim," it added.
The Bank of Japan, aiming to achieve 2 percent inflation as a key part of Tokyo's growth bid, now expects to reach that goal by 2019 — four years later than planned.
Despite healthy profits, many Japanese firms remain cautious about the world economy, partly due to worries that US President Donald Trump's protectionist leanings could hurt exports.
Comments will be moderated. Keep comments relevant to the article. Remarks containing abusive and obscene language, personal attacks of any kind or promotion will be removed and the user banned. Final decision will be at the discretion of the Taipei Times.