Samsung takes aim at biologic drugs
The Samsung brand is best known for its smartphones and wide-screen TVs. Yet behind the scenes, the conglomerate is also making a name as a contract manufacturer of complex medicines to treat diseases such as cancer.
On a piece of reclaimed land along South Korea's western coast, Samsung BioLogics Co is building a US$740 million factory that is to give it the capacity to become the No. 1 producer by volume of a class of drugs called biologics, many of which are derived from mammal cells.
The Samsung group diversified into the pharmaceutical sector in 2011. Now, it is mobilizing its expertise in semiconductor making and engineering to make the way biologics are produced more efficient.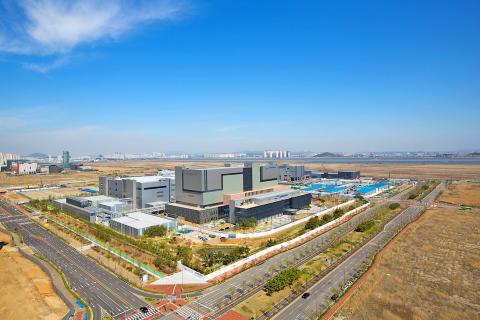 Samsung BioLogics Co headquarters and production facilities are pictured in Incheon, South Korea, on April 19.
Photo: Bloomberg
The market for biologic medicines, which are used for everything from cancer to arthritis, is projected to exceed US$223.7 billion by 2021, according to a Bloomberg Intelligence analysis.
Being a force in biologics is crucial to Samsung — and South Korea. Galaxy smartphones and other consumer electronics face intense competition from Apple Inc and Chinese brands such as Huawei Technologies Co (華為), and Samsung is grappling with the arrest of de facto leader Jay Y. Lee in a scandal that brought down former South Korean president Park Geun-hye. Meanwhile, the broader economy needs new industries as shipbuilding and heavy manufacturing slow.
If the past 40 years of global economic growth were fueled by technology, the next are to be fueled by where that converges with healthcare, Samsung BioLogics chief executive officer Kim Tae-han said.
In an interview at company headquarters in Incheon, Kim said he is preparing to ramp up production and is in negotiations for more than 15 new contracts.
The Samsung board gave him the green light and US$2 billion to start the business about six years ago, he said.
However, on the strength of demand and business performance, "I've already spent US$3 billion,'' he said.
Sales totaled 107.6 billion won (US$96.36 million) in the first quarter, a 2.1 percent year-on-year increase, although the unit still posted a net loss.
More than 2,000 construction workers — most with experience building semiconductor facilities — are buzzing around the factory site about an hour's drive from Seoul. It is called Edison and is the company's third drug facility. Its five floors encompass 34m, making way for custom-made vats that are so big some shoot through several floors.
Biologic drugs are grown from cells. That necessitates a more complex manufacturing process than typical pills — a mixture of chemicals — but makes biologics more effective and capable of being targeted toward certain diseases.
Building a biologic plant is similar to building one for semiconductors. There are clean rooms that cannot tolerate dust or other contamination, so Edison is being built without nuts or bolts to prevent any drilling. Everything is welded and tilted to fit together.
One day, "contract manufacturing" could extend to helping clients build the factories, Kim said.
Comments will be moderated. Keep comments relevant to the article. Remarks containing abusive and obscene language, personal attacks of any kind or promotion will be removed and the user banned. Final decision will be at the discretion of the Taipei Times.