Producer gains in China slow more than expected
END OF INCREASES? The Chinese statistics agency said that producer prices fell 0.4 percent month on month, while non-food consumer prices increased
China's producer price gains slowed more than expected last month, adding to signs of a potential easing of global reflation fueled by the world's second-largest economy.
The producer price index (PPI) rose 6.4 percent from a year earlier, versus a 6.7 percent Bloomberg survey estimate and 7.6 percent gain in March.
The consumer price index climbed 1.2 percent, compared with a 0.9 percent gain a month earlier, the National Bureau of Statistics of China (NBS) said yesterday.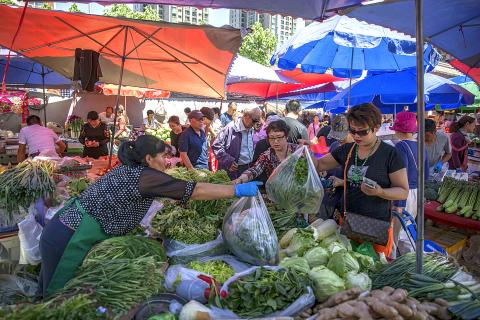 People buy vegetables at a market in Beijing, China, yesterday.
Photo: EPA
Resurgent producer prices, which rose the most in eight years in February, have helped fuel the world's shift away from deflationary pressures and their recent easing signals that the boost might not endure for much longer.
Moderated inflation also means stronger industrial profits might be harder to sustain and suggests corporate debt burdens might grow heavier.
Global commodities sank to a five-month low last week, nearly erasing the gains since US President Donald Trump's election win. The retreat has been led by industrial metals and oil, two sectors that fueled raw-materials price rises earlier this year on the view that faster global growth would boost demand.
"PPI has already peaked in China and it's on the way down further from here," Mizuho Securities Asia Ltd chief Asia economist Shen Jianguang (沈建光) said in Hong Kong. "The shadow-banking crackdown and housing tightening policy will slow investment and a decline in global commodity prices will help China contain price pressures."
"April's price data add to the impression of moderating momentum in China's economy heading into the second quarter," Bloomberg Intelligence economists Tom Orlik and Fielding Chen wrote in a report.
"Rapid gains in producer prices had buoyed corporate profits, lowered real borrowing costs and made the corporate debt mountain a little easier to scale. Slower price increases reduce those benefits," Orlik and Chen said.
"Falling prices and destocking are reinforcing each other," said Larry Hu (胡偉俊), head of China economics at Macquarie Securities Ltd in Hong Kong, adding that growth is likely to slow after accelerating in the first quarter.
"The Chinese economy passed its peak," he said.
"A softer PPI has two sides," said Ding Shuang (丁爽), chief China economist at Standard Chartered PLC in Hong Kong. "It negatively affects corporate profit, but helps put down the stagflation fears people had early this year. At least there's no need to tighten from the inflation point of view."
Producer prices fell 0.4 percent month on month, the first drop since June last year. Consumer prices climbed on non-food inflation, as airline tickets and hotel rates strengthened during the Tomb Sweeping Day holiday early last month and the Workers' Day holiday weekend at the end of last month, the NBS said in a statement.
Sectors have diverged with non-metal minerals, nonferrous metals and textile prices rising, it said.
Comments will be moderated. Keep comments relevant to the article. Remarks containing abusive and obscene language, personal attacks of any kind or promotion will be removed and the user banned. Final decision will be at the discretion of the Taipei Times.